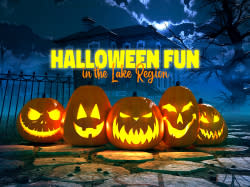 Spooky season has arrived! Here are a few events to help you, your friends, and family scare up some fun this month in Devils Lake and the Lake Region.
Road Trip to the Historic School in Webster for Their "CarniFall!"
Cost: $5 Per Person or $15 Per Family
Kids will have tons of fun ziplining, solving the straw bale maze, enjoying hay rides and so much more! This event is held Thursday through Saturday from 11 am to 8 pm now through October 30th.
Trick or Treat at the City Plaza
Free for All Ages
Head out to the City Plaza on Friday, October 29th, with your little ghosts and goblins for an afternoon of indoor trick or treating and an extra day of showing off those costumes! The fun begins at 3 pm and continues until 7 pm. Be sure to bring something to carry home all of your treats. Businesses, organizations and clubs interested in having a booth for this event can email the City Plaza at events@cityplazadl.com.
Spirit Lake Haunted Trail
Cost: $10 Per Person
October 22nd, 23rd, 29th, and 31st.
We heard a rumor that only the bravest Halloween-ers can make it all the way through this spooky hike, but it is open to all ages. If you love being startled and scared, head to the southwest corner of the Spirit Lake Casino parking lot. (We won't tell anyone if you end up sleeping with the lights on when you go to bed.)
Fright Night at the Memorial Building
Cost: $3 Per Person
Game Tickets: $.25 a Piece
Friday, October 29th 5pm-9pm
The Lake Region's favorite Halloween party is back and better than ever! Your whole family is welcome to dress up and show up for games, concessions, and dancing!  Local non-profit groups will be hosting the games and 4K Mobile DJ will be there to keep you monster mashing all evening.
Devils Lake Honor Society Fundraiser
5k Run/Walk and Costume Contest
Saturday, October 30th - 9am
It can be tricky to burn off the calories from all those treats, so we're heading over to Ruger Park for a bit of exercise and a fun fundraiser to boot! All ages and fitness levels are welcome. Prizes will be awarded for best costume, so you could leave a winner without being the first witch or werewolf across the finish line. Registration forms can be picked up at Devils Lake High School, Lake Region Fitness, Britsch Associates, Leevers Foods, Dr. Krein, Moen & Enderle Eye Clinic, Prime Therapy and Wellness, Gerrells, and Ramsey Bank.
Downtown Trick-or-Treat
Free for All Ages
Saturday, October 30th - 12 pm - 2 pm
Bring the kids downtown on Saturday the 30th for trick-or-treating from 12 pm to 2 pm and grab a bite, a coffee, and do a little early Christmas shopping while you're out and about! Look for signs on doors of participating businesses or check Downtown Devils Lake Alliance's Facebook page for a complete list of participating businesses.
Adult Halloween Party
Saturday, October 30th - 7pm
Spirit Lake Auditorium, Spirit Lake Casino
Cost: Free
Must Be 21 Years or Older to Attend
Whoever said Halloween was just for kids? We sure didn't, and neither did the folks at Spirit Lake Casino! The doors open at 7 pm, live music by Travesty starts at 9pm, but the fun begins when you walk in! Pool, darts, and dining options will be available. Bring some friends and your best costume game for a chance to win $2,700 in prize money in three categories (1st - $500, 2nd - $300, 3rd -$100.) Prizes will be awarded for scariest, funniest, and best overall.
Downtown Devils Lake Ghost Tours
Hosted by The Lake Region Heritage Center
Saturday, October 30th - 7pm
Cost: $15, Ages 16 and Up
Our beautiful downtown is rich with history, and perhaps a few restless spirits! The Lake Region Heritage Center is holding their popular guided ghost tours again this year. Walk the streets of downtown Devils Lake and learn about the people who built businesses and buildings in the Lake Region and hear the stories of the spirits that still remain!
Proz End of the Line Costume Party
Saturday, October 30th - 9 pm - 1 am
Free for Ages 21 and Up
If you're thirsty for some spirits and fun after walking the guided ghost tour everyone knows that Proz End of the Line is where it's at; you want to go to Proz! The party starts at 9 pm with Jano & Murph playing until 1 am. It's sure to be a spook-tacular time!
Spirit Lake Trunk or Treat
Sunday, October 31st -  3pm-5pm
Cost: Free to All Ages
Get your creative juices flowing and trim your trunk for a chance to win some cold, hard, cash at the Spirit Lake Casino parking lot this Halloween. $300 for 1st, $200 for 2nd, and $100 for 3rd. Participants are responsible for providing their own candy to hand out to trick or treaters. Call Jessica at (701) 766-4747 Ext. 306 for more information.
Devils Lake Animal Clinic Costume Contest
8am Monday, October 18th - 12pm Friday, October 22nd
Cost: Free
This one is for your furry friends! Dress up your pet, snap a pic, and head over to Devils Lake Animal Clinic's Facebook Page! To enter you must follow their page and comment a picture of your pet in their costume. You can vote for your favorite pet by "liking'' its photo. Comments on pictures will NOT be counted as votes, so hit that like button! Voting begins at 8 am on Monday, October 18th and ends at noon on Friday, October 22nd. The top 3 winners from round 1 will move to round 2! The winner of the contest will receive a $25 gift card to the Devils Lake Animal Clinic.
Whether you go all out or stay in, we hope you have a safe and fun Halloween!