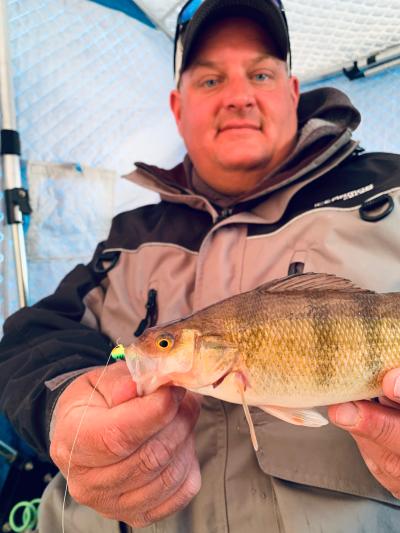 Veteran Devils Lake, North Dakota fishing guide Cody Roswick said he and all his ice fishing guide friends want to hear from you.  "It would be a great Christmas present," he said.
The reason is simple, fishing guides depend on clients.  These regular customers are like most people today.  They're reluctant to make long range commitments.  Roswick said when he talks with clients, he hears stories about uncertainty in general, weather which has been unusually mild across the upper Midwest, Coronavirus, an unsettled election, travel, lodging and other concerns. 
"This is the same situation us guides faced in March and April when the phones stopped ringing.  Fortunately, fishing became an approved activity and people filled up our boats this past spring, summer and fall," he said, "I hope this early winter will provide similar results for the ice season."
He urged past clients and first-timers to book with their favorite guides now.  A complete list is posted with contact info at devilslakend.com.  Even for those not ready to reserve a date now, Roswick recommended people keep the Devils Lake perch, walleye, white bass and northern pike in mind for last-minute trips.  "We're here for you," he reiterated.
The weather forecast calls for a cold spell the week of Dec. 13.  With no snow in the forecast, a solid sheet of ice should provide "walking-out" ice by Christmas.  Right now, the area lakes north of Highway 2 like Alice and Irvin are providing fishing action.  Devils Lake back bays are beginning to firm up, but the main lake remains open.  "That will change in the next week or so.  Check on ice conditions or trust the guides," he said.
He also made the point that the guides have complied with protocols regarding Coronavirus.  They cleaned rods, boats, net handles, seats and everything for safe conditions.  They will do the same this winter, alleviating any concerns clients may have about booking trips to one of the top-rated perch and walleye destinations in North America.  "Hey, the Canadian border is closed, but North Dakota is wide open and waiting for you.  Call your favorite guide service or me, Fin Hunters Guide Service, 715-840-5407," Roswick said.
Roswick's first-ice Christmas week fishing will be mostly for walleyes on close-to-shore, safer ice.  While catching plenty of eater-sized walleyes, he feels the yellow perch, the fish that made Devils Lake famous, will be part of the bag.  Perch and walleyes hang together early in the season.
This is the time when only two lures, the 1/16th ounce Northland Buck Shot Rattle spoons and the Forage Minnow spoons are tied on his lines. Colors that seem to always catch fish are Glow Chub, Electric Perch and Fire-Tiger. He tips each with a minnow head or a couple wax worms.  "This set-up catches both species.  They can't pass it up," he said.
Thanks to parks, tourism, city and county cooperation, winter accesses remain open so fishermen can walk or drive onto the lake.  A heated fish-cleaning station by Ed's Bait Shop on Highway 20 is also maintained for the public, free of charge.  The Sleep Inn, Fireside, Cobblestone and SunLac Inn also provide heated fish-cleaning facilities.
Go to devilslakend.com for resorts, lodging, guide listings, up-to-date fishing reports, ice and travel conditions, casino, community activities and much more.