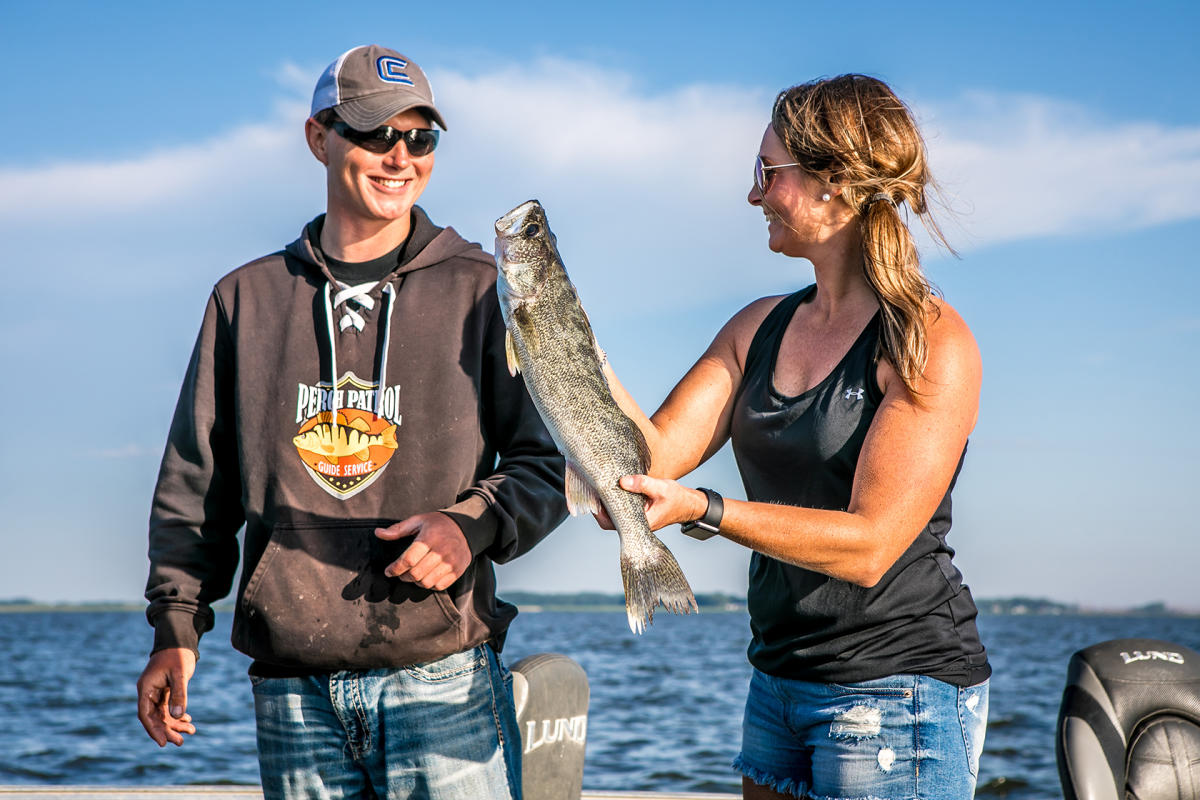 Outdoor activities are a vibrant segment of the Devils Lake, North Dakota economy.  In fact, fishing and hunting were specific reasons the local community withstood the 2020 virus impacts that ravaged so many other towns and cities.
This bright spot in north-central North Dakota is amazing when compared to the entire state, which lost more than One Billion Dollars in visitor spending.
State visitor numbers declined 21 percent and spending dropped 32 percent. 
"The outdoor market has remained strong, giving Devils Lake an edge over other areas, including in our own state," said Devils Lake Tourism Director Suzie Kenner.  Local Woodland Resort owner Kyle Blanchfield summed the busy 2020 year by saying, "We have the things people need when they're on vacation.  We also have a world-class fishery, pristine shorelines, less pressure on the resources, great all-season lodging and camping.  I may be a little bit biased, but we have a very friendly community."
The world-class fishery may be a slogan used by local tourism promoters.  However, it is recognized far and wide.  The recently released list of top 100 United States fisheries pegged Devils Lake at Number 18.  The Abu Garcia panel included Ken Duke, editor of Fishing Tackle Retailer magazine, Mike Iaconelli, BASS Classic champion, Dr. Keith Jones, former Berkley VP, Liz Ogilvie, VP and CMO of the American Sportfishing Association, Jason Schratwiesser, IGFA president and others.  Familiar lake systems like South Dakota's Lake Oahe and Lake Sakakawea in North Dakota were ranked 26th and 28th.  Florida's Lake Okeechobee was 36th; Fort Peck Reservoir, Montana was 38th; the Kenai River in Alaska was 51st; Lake Minnetonka in downtown Minneapolis was 78th.  The top-ranked fishery was the St. Lawrence River in New York.
Greg Power, North Dakota fisheries division chief said, "We had record resident fishing license sales last year.  These fishermen were active participants all year and the popular summer fishing carried over into the ice fishing season."  Game and Fish also reported non-resident fishing license sales increased eight percent.
In Devils Lake, the tourism website devilslakend.com traffic was up 44 percent.  Local lodging tax collections have seen increases in revenue year over year.  To cite growth, in 1989, lodging taxes were about $25,000.  In 2020, they exceeded $150,000.  Restaurant taxes also destined for additional marketing and promotion saw consistent year over year growth.  They have doubled since 1996, jumping from $105,000 to more than $234,000 last year.
Blanchfield expanded on the small town "feel."  He said, "Our local folks understand how important visitors are to everyone here.  These are the people who can repair anything, provide great services, are willing to assist and are what makes this place special."
He continued, "Fishing is the main reason visitors show up here all 12 months of the year (the Devils Lake fishing season never closes), but for the past 125 years, waterfowlers really put us on the map.  We live in the heart of the prairie potholes region and see a tremendous influx of ducks and geese along the central flyway.  We're a duck factory."   Non-resident waterfowl license sales rose 16 percent last year.   
Guide services cater to fall duck and goose hunters.  In spring, summer and fall, open-water fishing with area guides is a tradition.  Guides transition to ice fishing in winter.  Devils Lake is on most angler's Bucket Lists, and once they experience it, they return.  Visitors arrive by car, truck, bus, Amtrak or they fly into the local airport, which handles jets.
Devils Lake activities are summed up on the Tourism website, devilslakend.com, with family and community information about tournaments, car shows, fairs, parades, shopping, resorts, camping, casino and more.  Also, details about public and free-to-use launch sites with fish cleaning stations, the many trusted guide services, and fishing reports, are updated often.