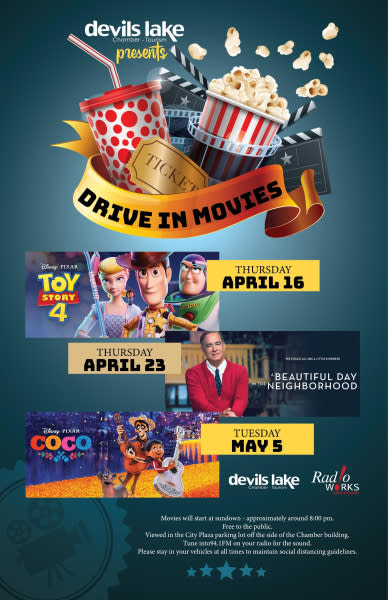 Families looking for something to do while the nation is shut down now have a family-friendly safe option. The Devils Lake Tourism Department and Chamber of Commerce, along with RadioWorks and City Plaza will host a spring drive-in movie series.
The movies will be shown on the Chamber of Commerce building, with the use of the City Plaza parking lot. Families are asked to stay in their vehicles to abide by the "Social Distancing" policies in place by the State of ND, and RadioWorks will stream the sound through your radio stations.
"I think this is a great way to be out in the world and feel like we are not completely shut down," said Suzie Kenner, Executive Director of Devils Lake Tourism. "We would have liked to have started the series a little bit sooner, but we were waiting for the weather to slightly warm up."
The movie schedule will be as follows: Thursday, April 16, Toy Story 4 (G); Thursday, April 23, A Beautiful Day in the Neighborhood (PG); and Tuesday, May 5, Disney's Coco (G). "May 5 is also Cinco de Mayo so the movie Coco will be a great fit for the evening," says Kenner.
The rules for the movies are simple. Stay in your vehicles. Park in straight lines. Make it a pajama party - bring your own snacks and blankets. Turn on your radio to 94.1 FM, and watch the movie! The movies will start at sundown or as soon as the screen is visible – around 8:00-8:15 PM. The Chamber of Commerce will have their building open for a rest room if needed, but we ask that only one family at a time enter the building.
Thank you to our partners Lake Region RadioWorks and City Plaza for making these movies happen.
#devilslakend
#funindevilslake
#devilslakechamber
#driveinmovies
#socialdistancing