Santa sent Buddy, his most trusted elf, to hunt down the very best gift ideas in Devils Lake this Christmas, and we were there to document all of his picks!
---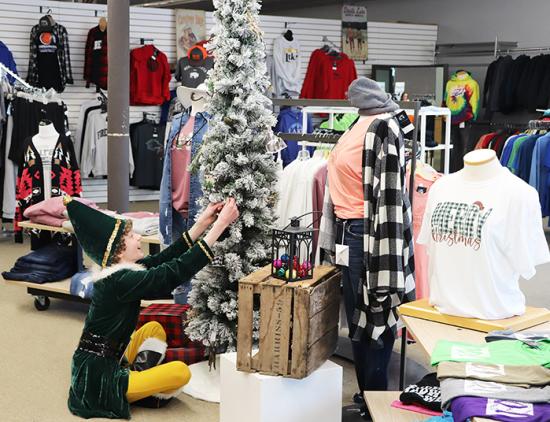 You'll have no problem finding something for everyone on your list at Buddy's first stop.
Creative Impressions has a great selection of team gear and stylish clothing to choose from and will even whip up something in the (Saint) Nick of time for you if that's more your style.
Sounds like a jolly-good idea to us!
---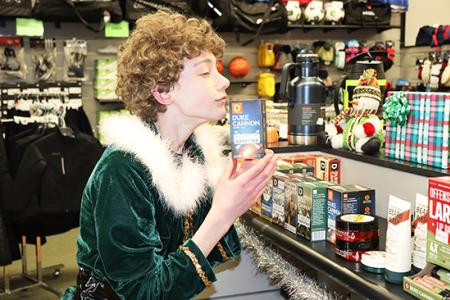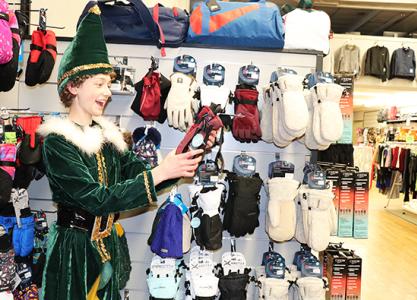 "This place has you covered from your head to your mistletoes!" - Buddy had a snow-ball in Gerrells! Snow hats and mittens, UND and NDSU apparel, winter coats, hunting gear, fishing gear, and even Duke Cannon soaps and scents to gift to your loved ones this year.
---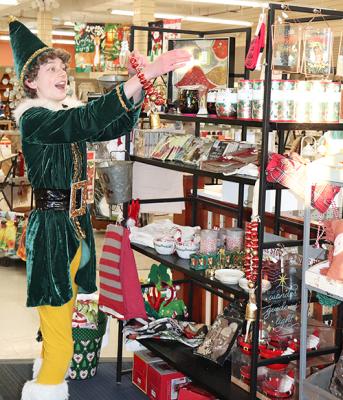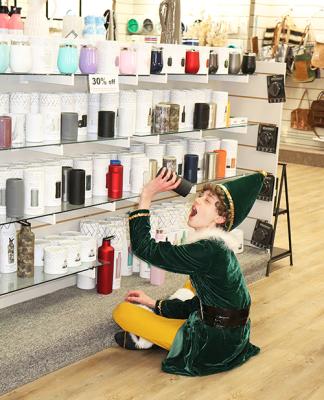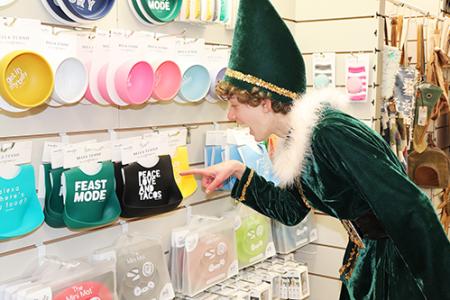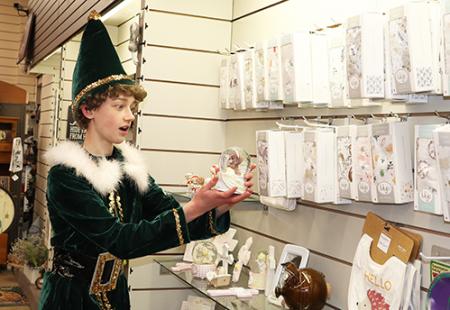 It was love at frost site the second Buddy walked in the door at LaMotte's. He sniffed the candles. He jingled the bells. He tried to swig some hot cocoa from one of the insulated mugs, but it was empty. He found gifts for babies and brides, and dads and wives. Whether you're treating your elf or someone else, LaMotte's has gifts to suit everyone on your list.
---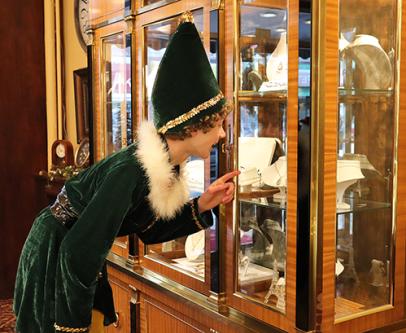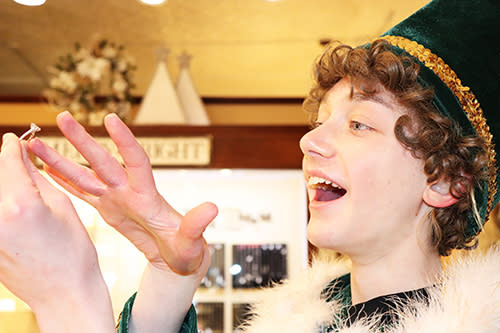 If you are looking to make a fa-la-la-lasting impression on someone special this Christmas, Buddy says Ritter-Huesgen Jewelers has just the thing you need. Things that sparkle and things that twinkle, all the things to make your sweetie's heart go a-jingle. Diamonds, gems, watches and fashion jewelry. You will find something to suit everybody and every budget at Ritter-Huesgen.
---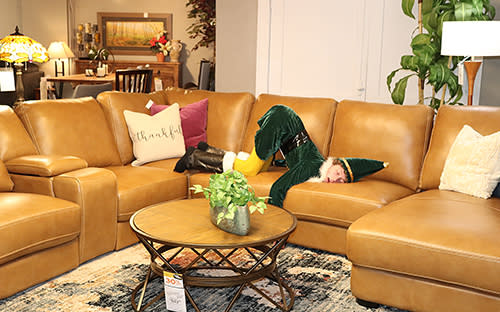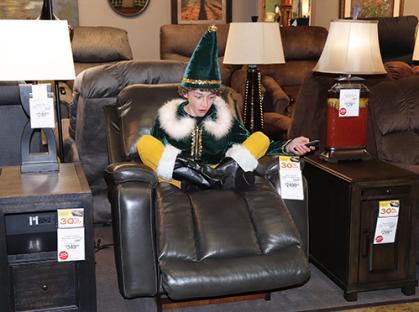 There's only so much an elf can do before they need a little Christmas nap. Buddy did not stand a snowball's chance in Mexico against all of the comfy sofas, chairs, pillows and poufs in Slumberland (we found him sawing logs on a lovely leather sectional). If someone on your list is looking to spruce up their nest, this is a great place to shop! 
---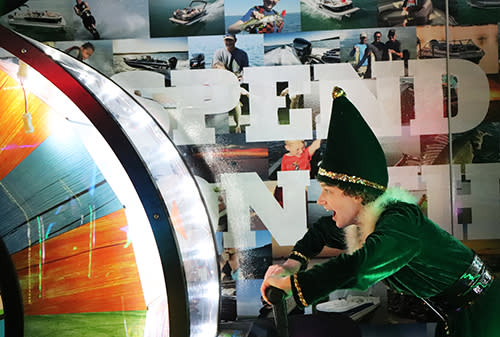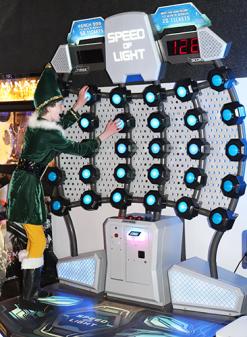 Once our elf had roused from his slumber, we flew over to the City Plaza to check out their new arcade and Buddy had a ball! You can buy play credits and have them put on a card, and we think that would be a great stocking stuffer. We know the arcade would be a fun way to get out of the house and burn some energy during Christmas break!
---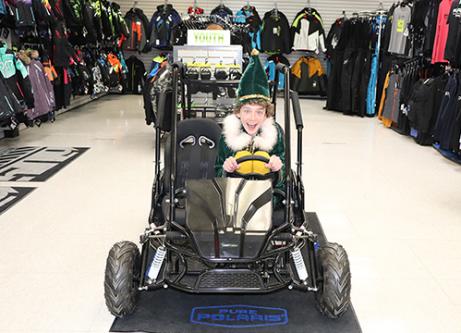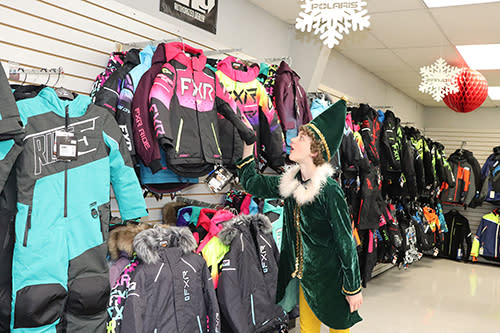 Our next stop has everything on your outdoor powersport adventurer's wish list. From side-by-sides to snowmobiles and all of the gear you need to go with it, Joe's has a wrap on it all. Any gift from Joe's would leave us merry this Christmas!
---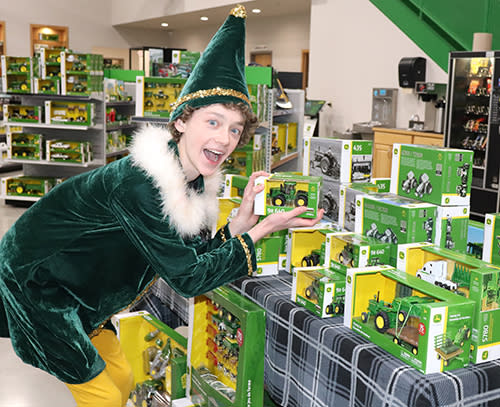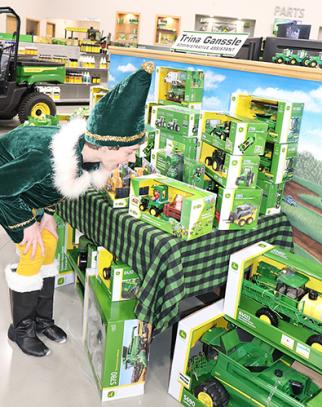 Buddy declares that Leading Edge has a tree-mendous selection of toy tractors, combines, trucks and more to gift all of the little farmers on your list. Nothing keeps little imaginations running like John Deere! 
---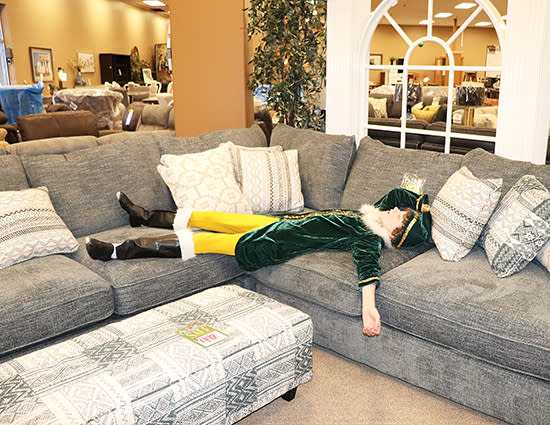 We heard Mrs. Claus had her eye on a new sofa at St. Michel, so Buddy pranced over to give it a test sit. This quickly turned into test snooze once he felt how luxuriously cozy their furniture is.  While he dreamt of sugar plums, we made our list for Santa. A few plush pillows and some stylish, warm throws would be a great gift for the home decor enthusiast on your list!
---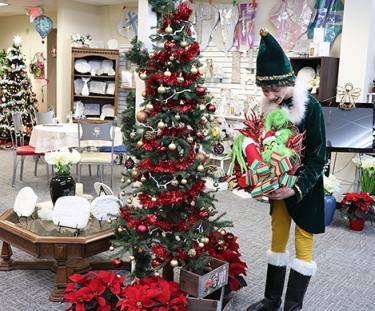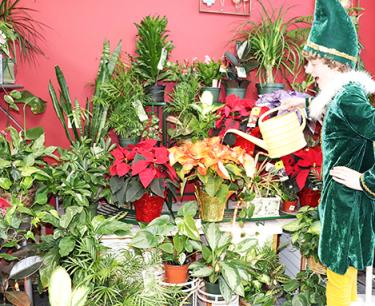 Poinsettias and holiday arrangements are always welcome gifts during the Christmas season, especially for the hard to shop for people on your list.  Buddy is a sucker for snowglobes, and he especially loved the Grinch wreath! 
---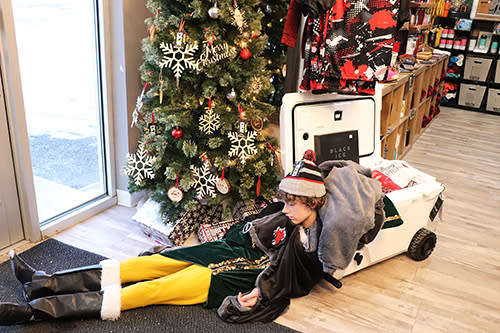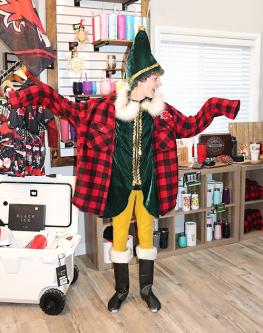 Buddy stopped in at Xtreme Signs where he found everything a Firebird fan could ever hope for, and also sneaked in another nap. Elfing is clearly exhausting work!  Once he was rested he picked up caps, hats, shirts, warm blankets, insulated cups and so much more! Shopping for someone from a different school? No problem! Xtreme Signs will personalize something for you! 
---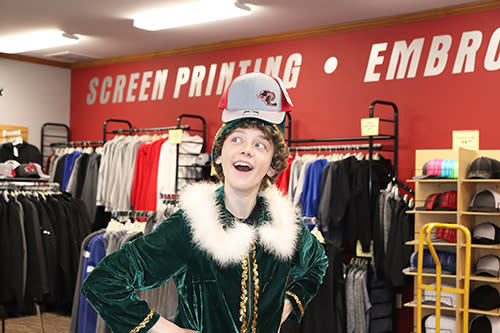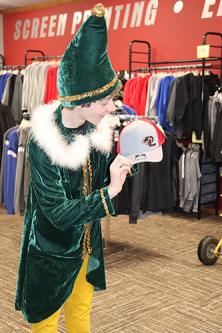 Buddy stopped in at Decorated Wearables to pick up the custom embroidered blankets he had made for Santa's reindeer. While we were there, we found a baseball cap that will be under our tree and placed an order for custom screen-printed sweatshirts. We love personalized gifts; it seems we're a little Santa-mental in that regard. 
---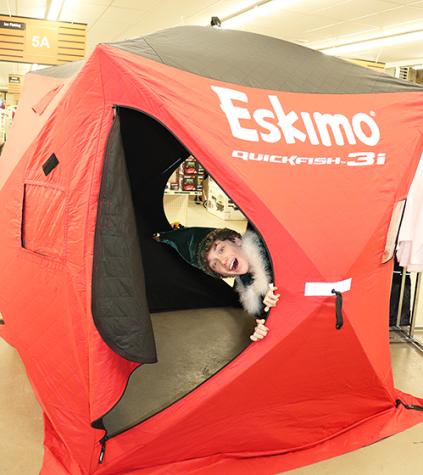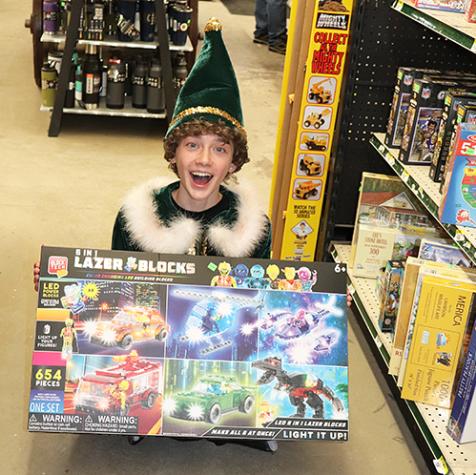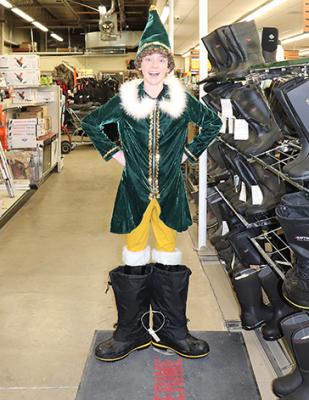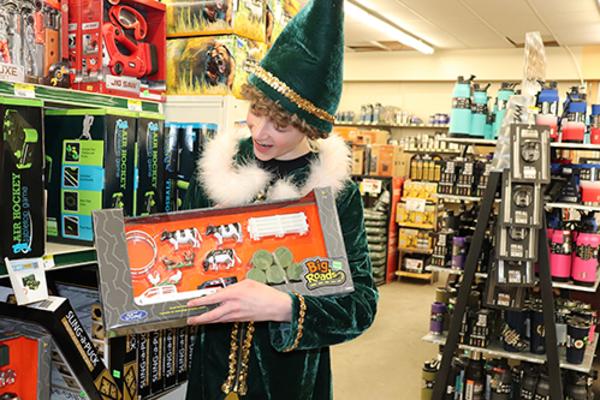 There is a potpourri of gift ideas at Home of Economy, and Buddy was here to check them all out. He tried on some boots. He scored in the toy section for ranch playsets and a set of laser blocks. He got a little out of hand with the weed whacker, but we won't comment on that any further. He picked up some tools for lefse making and baking other Christmas treats. We pulled him out of a fine fish tent before he could curl up and fall asleep inside. This stop was another Christmas gift list success!
---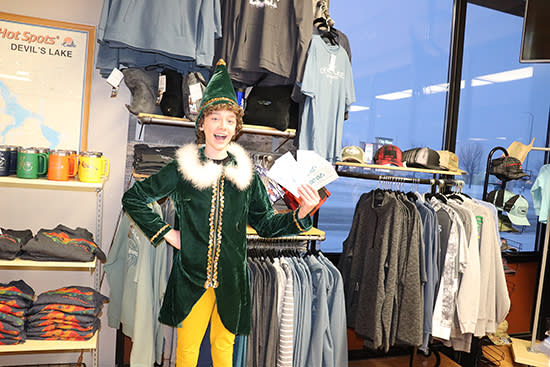 Devils Lake Chamber & Visitor Center
We couldn't let Buddy head back to the North Pole without checking in at the Chamber & Visitor Center!
There he picked up some Devils Lake branded gear and grabbed some Chamber Bucks to slip into a few  lucky stockings on Christmas Eve. It was getting late and Buddy was needed back at the North pole, so we took a few elfies, said our goodbyes, and in the blink of an eye and a jingle of a bell he was gone.