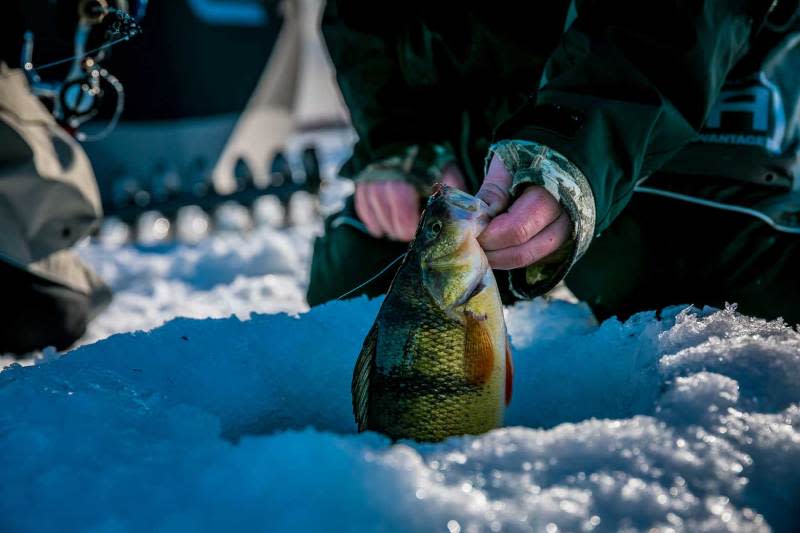 Will this be the season to find out why Devils Lake is on every ice fisherman's Bucket List?  Whether chasing perch (the favorite for most anglers), white bass, pike or walleye, Devils Lake has it all. 
The reasons start with the fact that yellow perch are "…plentiful, big and fat, fun to catch…" according to guide Mark Bry.  Since perch prefer working hours, 9 to 4, there is plenty of daylight for walleyes early and late.
The facts support what guides know.  Todd Caspers, Devils Lake fisheries biologist reported a big uptick during this summer's survey.  Perch have averaged 11.5 perch per net over the long-term.  This year biologists recorded 18.3 perch per net.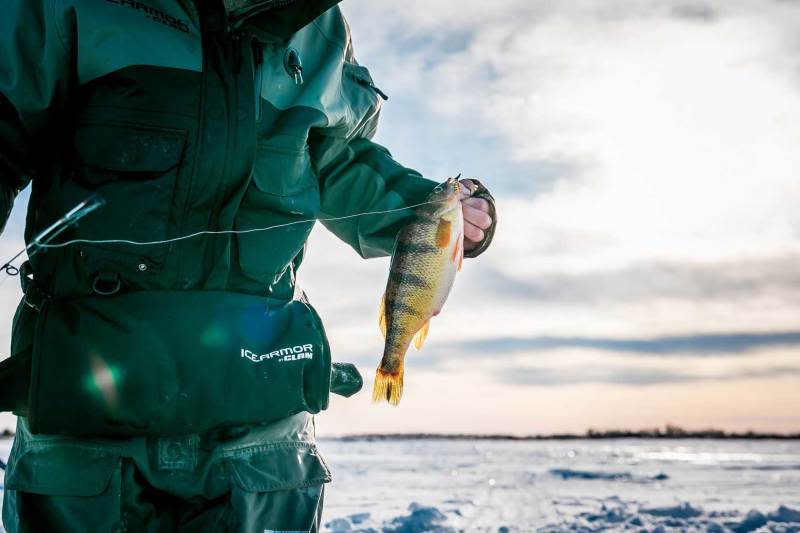 Walleyes showed up at an average of 32.4 per net this year compared to the typical average of 21 per net.  Many of these were the "eater" size walleyes ranging from 15 to 20 inches.  White bass, another popular winter fish are doing well with 11.4 per test net; more than double the 5.5 long-term average.  Northern pike are also targeted through the ice with many hefty toothy critters pulled topside, many in the 30 inch-plus size range. 
Folks planning a first visit to Devils Lake traditionally book a guide service in advance.  Devils Lake in north-central North Dakota covers approximately 240 square miles (145,000 acres).  It has spread out since the dust bowl years of nearly a century ago when it was about 11 square miles.  As it expanded, it swallowed up farm machinery, barns, silos, houses, roads, and spilled into marshes and sloughs, creating ideal habitat for bait fish and young-of-the-year perch, walleyes, white bass and pike to survive.
Fishing this spring, summer and fall was rated as exceptional.  That's why the winter fun will be even more exciting.  Bry is one of many guide services with 10 full-time guides, the best gear, electronics, rods, lures and lodging.  In addition, clients are privileged to ride in luxurious SnoBear tracked vehicles for safe, warm and mobile fishing. 
Zippy Dahl, owner of the Perch Patrol, with a dozen guides points with pride to his experienced crew, Polaris Ranger crew cab tracked vehicles, plus top-notch equipment and electronics units.  Combo fishing/lodging packages are also part of the one-stop arrangements with Zippy.  "We might be called the Perch Patrol, but we also showcase the other Devils Lake species," he said.
With the uncertainty about the Canadian border crossing issues, fishermen set their sights on Devils Lake last winter.  Returning regulars plus many of the newbies from 2020 are already scheduling trips. 
For the DIY crowd, it's reassuring to know that a heated fish-cleaning station by Ed's Bait Shop on Highway 20 is open at no-cost.  The Sleep Inn, Fireside Inn, Cobblestone and SunLac Inn also provide heated indoor fish-cleaning facilities.
Even better, the community bends over backwards for ice fishermen by keeping winter accesses open.  The website – devilslakend.com – describes ice and travel conditions.  On a lake as big as Devils Lake, most first-timers book a guide.
The city known by the same name as the lake was a winner of the Urban Excellence Award for their downtown revitalization project.  If there was an award for the friendliest ice fishing city, the chances that Devils Lake would hoist that trophy are very high.
Ice fishing starts anytime from mid-December, depending on ice conditions.
There is no closed fishing season, and can run well into late March or early April.  Limits are generous: 5 walleyes daily with 10 in possession; same for pike.  White bass and perch limits are 20 daily and 40 in possession.  Advice:  Book now; create winter ice fishing memories soon. 
Three day North Dakota non-resident licenses are $28.  Season long, they are $48.  Youth under age 16 do not require a fishing license. 
DEVILSLAKEND.COM is the best source for up-to-date fishing reports, guide service listings, ice conditions, lodging, casino, community activities and much more.