Spring has finally sprung here on the prairie and that means one thing for avid outdoorsmen, it's time to pull the long rods out of storage and start chasing walleyes.

North Dakota has a very generous walleye season where it is open 365 days a year, so that means upon first ice out it is go-time to start chasing North Dakota's most sought-after gamefish species from shore.

With the onset of the flooding of Devils Lake back in the early 1990s Devils Lake started to sprawl across over 160,000 acres with many of these fishable acres of water being easily access from a major highway or gravel road.

The months of May and June can produce some fantastic days of walleye fishing within a few steps from your car door. Here are a few simple things to take into consideration when looking to take advantage of the miles upon miles of fishable shoreline on Devils Lake.

Where to fish: There are a lot of major highways like Highway 19, Highway 57, Highway 20, and many more that have been built up over the flooding years with rip-rap that provide excellent areas to target walleyes. Along with the major highways there are a lot of gravel roads that run adjacent to Channel A, Mauvee Coulee and some of the northern feeder lakes. Always make sure the land isn't "posted" off these gravel road areas and make sure to pull your vehicle off to the side of the ride as spring is a busy time for local farmers moving planters and trucks from field to field.

The key to taking advantage of these areas in the spring is two-fold. Try to fish in the afternoon and evening, this will give the sun a chance to warm the water up a degree or two and make the fish that much more active. The second thing is to fish the wind-blown side of the shore, this may not always be the most enjoyable but will yield the best results as hungry walleyes will be preying on bait being blown up to the windy shorelines. Another thing to look for is current, whether this be a culvert in a coulee or under a bridge, the more current and running water one finds leading up to spawn, the more active fish they will find.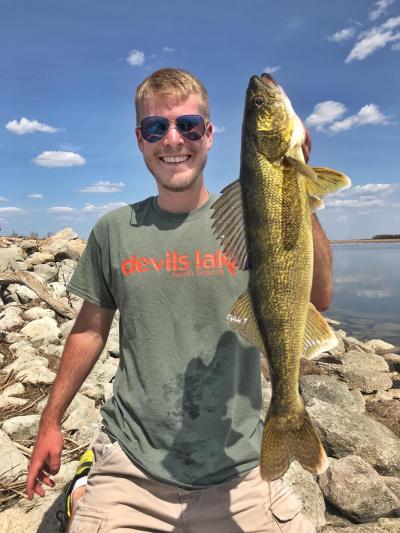 What to use: Spring fishing from shore on Devils Lake can be as rudimentary as it gets. In North Dakota anglers are allowed to use two rods during the open water season. Spring allows anglers to take advantage of this by allowing us the ability to have an aggressive style of bait along with a live-bait presentation.

Casting setups for spring consist of jigs and plastics and crankbaits. I like to have a wide variety of 1/4oz jigs along with a mixture of various color paddle-tail and twister tail plastics. 1/4oz is a great size as it is light enough to fish up shallow and not get hung up as easily in the rocks but can also be used later in the season in deeper water from the boat. Small crankbaits can also be an effective way target active fish during the sunny spring days. Tie yourself a 12-18" leader with fluorocarbon on your casting setups as the pesky pike and wreak havoc on your line and this is a great way to ensure you won't need to be tying your line after each pike you hook.

Live bait setup: The second setup that is effective in the spring is using leeches as soon as they are available from the local bait shops. This can be a great way to capitalize on lethargic fish or double down while one is casting. Two methods for live bait fishing in the spring are slip bobbers and lindy rigs.

For slip bobbers, I like to run with a hi-vis bobber to see better during those sunny days, I pair that with a 12" leader that is tied to either a #6 red hook with a split shot weight or just a small jig in place of a bare hook. I tip that with a leech and set usually anywhere from 12-18" off the bottom.

Lindy rigs are equally as effective as slip bobbers from shore but require less work on getting your depth set. I usually run a about two to two and half leader with about a ¼ sinker on it that is tied to a bare hook with a float. I adjust my float to allow my hook and bait to be about a foot off the bottom. Cast the lindy rig out and give the line a little slack, unlike watching a bobber dunk beneath the water, your line will get taught when a fish grabs your lindy rig.

Now that you have the basics on where and how to tackle shoreline walleyes from Devils Lake, it's time to get out there and wet a line! One tip for those heading out, even a change in water temp by one degree can make the bite that much better. Don't be afraid to do a little scouting of spots to see where the active fish are.

Keep the lines tight and hope everyone has a great spring fishing season!