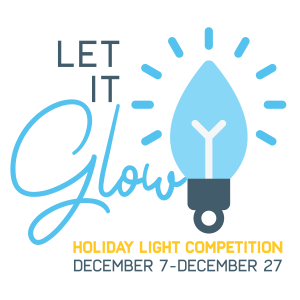 It's true. There is nothing better than seeing thousands of twinkling lights on a cold, snowy night, listening to joyful holiday music as you drive through town with the ones closest to you. As a challenging and trying 2020 comes to an end, we're here to do our best to spread cheer, warmth and excitement to our community.
This year, we will be kicking off our 1st annual, Let It Glow Holiday Lights Competition!
The Holiday Lights competition will be open to the community. Homes must register, then will be assigned a voting number by the Chamber of Commerce.
In addition, we will be hosting Let It Glow: Cookies & Cocoa with the Chamber night on December 10! Cookies, cocoa and coffee will be served drive-thru style, to those who would like to make it a fun, COVID safe, night out.
If you would like to include your residence into the map for people to view, please fill out this form and return to the Chamber of Commerce by December 2, 2020.
Let It Glow will be a competition open to the public to vote on (once per phone number) starting Monday, December 7th and running through Sunday, December 27th.
Voting information will be posted prior to December 7th.
This event is sponsored by: