Summers in the Lake Region are fast and furious, so you'll want to make sure you mark your calendars with these events!
Music

From the new amphitheater at Spirit Lake Casino to the much-anticipated return of Rockin' the Cove, there will be no shortage of live music to enjoy this summer!
Arts in the Park
Held every Tuesday night in Roosevelt Park at 7 pm, Arts in the Park has been a staple summer music series in Devils Lake for years. This event is free of charge and open to all ages, but don't forget sunscreen and bug spray!
Devils Lake Rockfest
Rockin' the Cove '22
August 12th and 13th
Woodland Resort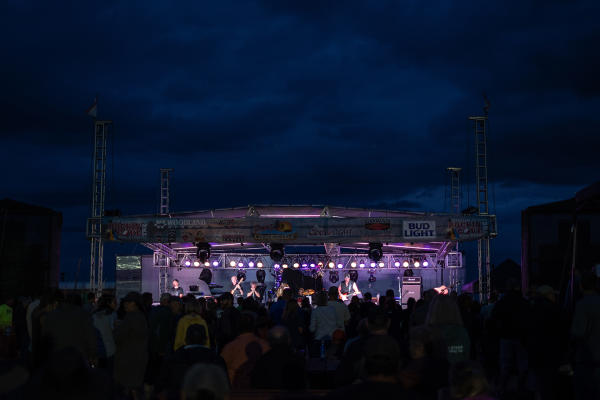 The Lake Region's favorite rock festival is back this summer after a two year hiatus! Two days of live music on the shores of beautiful Devils Lake has been a highlight of the summer since it started, but this year they are adding a food truck alley and a cornhole tournament. We can't wait to get back to Rockin' the Cove this summer!
Follow Devils Lake Rockfest on Facebook for the latest updates.
Spirit Lake Casino & Resort
Outdoor Entertainment 2022
Sizzling Summer Concert Series
From country to alternative and classic rock, Spirit Lake Casino's outdoor amphitheater will be shaking the lake this summer!
Jon Pardi
With Special Guest Jameson Rodgers
June 25, 2022 - 9 pm
Doors Open at 6 pm
$60 Advanced Admission
$70 Day of Show
Jon Pardi is a country music singer/songwriter from Dixon, California. He has been writing music since age 12 and had formed his own band by 14. Three of Pardi's songs have held the No. 1 spot on Country Airplay Charts: "Head Over Boots," "Dirt On My Boots," and "Heartache Medication."
Pardi's opening act will be Jameson Rodgers, a country musician from Batesville, Mississippi. Rodger's debut single "Some Girls" reached No. 1 on the Country Airplay Charts and No. 29 on the Billboard Hot 100. Rodgers was also named one of Pandora Radio's 2018 artists to watch. 
John Fogerty
With Special Guest Hearty Har
Saturday, July 16, 2022 - 9 pm
Doors Open at 6 pm. 
$60 Advanced Admission
$70 30 Days Before Show
John Fogerty is an American rock musician, singer, and songwriter. Fogerty was a founding member of Creedence Clearwater Revival. He has enjoyed a successful solo career since 1972 when Creedence Clearwater Revival parted ways. Some of his hits included "Bad Moon Rising," "Down on the Corner," and "Centerfield."
Hearty Har, a psychedelic rock band led by Fogerty's sons, Shane and Tyler, will be opening for John. A few of Hearty Har's singles include "Scream and Shout," "Waves of Ecstacy," and "Fare Thee Well." 
Bush
With Special Guest Ayron Jones
Saturday, August 6, 2022 - 9 pm
Doors Open at 6 pm
$50 Advanced Tickets
$60 30 Days Before Show
English rock band Bush hit the music scene hard in 1994 with 6x platinum album SIXTEEN STONE. They've compiled over 23 consecutive Top 40 hit singles on the Modern Rock and Mainstream Rock charts, 11 being Top 5 hits and 6 reaching No. 1: "Comedown," "Machinehead," "Swallowed," "The Chemicals Between Us," and "The Sound of Winter."
Ayron Jones is an American guitarist, singer, and songwriter. His music is a blend of grunge, rock, hip-hop, soul, and other genres. His debut single "Take Me Away" hit Top 5 at Rock Radio. Jones was nominated for iHeartRadio's Best New Artist award in 2022.
Midland
With Special Guest Josh Abbott Band
September 3, 2022 - 9 pm
Gates Open at 6 pm
 $50 Advanced Tickets
$60 30 Days Before Show
Midland, a country band out of Dripping Rings, Texas, earned a No. 1 spot on Billboard's Top Country Album Sales chart with their sophomore album "LET IT ROLL." They won New Vocal Duo or Group in 2018 at the ACM awards. The band has two Grammy nominations under their belt for Best Country Song and Best Country Group or Duo. "Drinkin' Problem," "Sunrise Tells the Story," and "Worn Out Boots" are a few of their popular songs. 
Josh Abbott Band hails from Lubbock, Texas and was founded in 2006. The band has found success in the country genre collaborating with acts such as the Eli Young Band and Kacy Musgraves. "Taste," "Wasn't That Drunk," and "Road Trip" are a few songs to check out before the show.
 
Arts

Fort Totten Little Theatre Presents:
Jersey Boys
July 1st - August 5th, 2022
Wednesdays - Saturdays
8:30 pmLate Night Show: Saturday July 23rd - 10 pm (Explicit Language)
Early Show: Sunday, July 17th - 5 pm
Blanket Seating (6 tickets, $120)
General Admission (1 ticket, $30)
Picnic Table (4 tickets, $100)
Stadium Seating (1 ticket, $30)
Jersey Boys is a jukebox musical that takes you behind the scenes - and behind the music - of Frankie Valli and the Four Seasons. Frankie Valli is known for his unusually powerful lead falsetto voice and is one of the most iconic voices in American pop music history. The musical takes the audience from the streets of Newark to the heights of stardom! 
The play will once again be held under the beautiful summer sky in Roosevelt Park. Beer Garden and concessions will be on sight, along with a gift shop filled with Fort Totten Little Theatre gear. Tickets are available online now at www.forttottenlittletheatre.com or at their box office in The Liquid Bean.
 
Lake Region Arts Festival

Friday, July 8th - VIP Buyers and Art Collectors Reception
Tickets - $25 
*Must Agree to Purchase $250 Worth of Art to Attend*
Saturday, July 9th - Street Festival
Free of Charge and Open to All Ages

Lake Region Heritage Center Director Lisa Crosby and artist/organizer Jennifer Parker made an impressive debut last year with the first Lake Region Arts Festival, and year two is sure to be even better! The juried and judged festival aims to celebrate and promote artists in all manner of mediums. The two day event begins Friday evening with a VIP reception for buyers and art collectors. Cocktails and small bites are served as attendees and artists mingle and shop. 

This year's judge is Sarah Heitcamp, artist/museum/gallery curator at the University of North Dakota. There will be cash prizes awarded for 1st, 2nd, and 3rd place in each division. 
The street festival on Saturday is a day packed with food trucks, art vendors, art demonstrations, cultural food, music, theater, dancing, and of course, the art show inside the Heritage Center. It is truly a day of fun and learning for the whole family!

Applications are still being accepted for food and art vendors on Saturday. Contact Lisa Crosby at (701)662-3701 for more information. 
Entries for the juried and judged art show will be accepted until the 27th of June. Contact Jennifer Parker at LRArtsFest@gmai.com for more information on entries.
 

Cars, Fish, Ribs, and Sips
(and a Rodeo too!)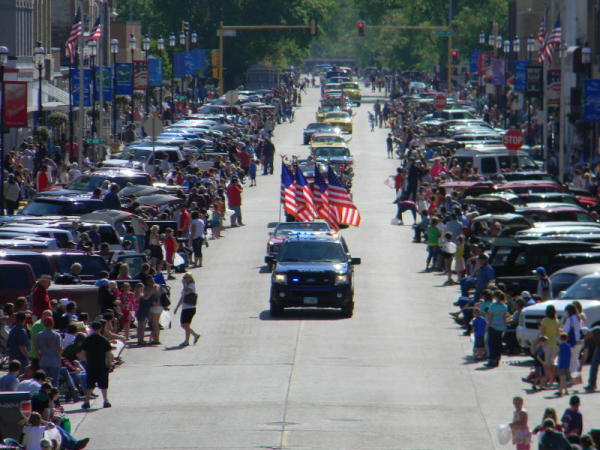 30th Annual Devils Run
June 3rd-5th, 2022
Roosevelt Park
The Devils Run began in 1993 with a car club called the "Lucky Devils" and just a few local classic cars. (The author of this article may have driven her dad's '64 Thunderbird in the poker run that year, winning a car wash kit!) 

Over the years it has grown into one of the largest car shows in the Upper Midwest attracting nearly 1,000 cars from all over the United States and Canada. The three-day event includes a 
car show, parade, food trucks, entertainment, and so much more!

For entry forms, go to www.greaterdakotaclassics.com. Follow Devils Run Car Show on Facebook for the most up-to-date information.
Lake Region Stampede
June 10th and 11th, 2022
Peterson Arena
Adults - $20/Night
Kids - $10/Night
Pro Rodeo Returns to Devils Lake this year on June 10th and 11th! Come watch the top cowboys of the PRCA matched with NFR stock contractor Bailey Pro Rodeo. Head out to the Peterson Arena and become part of the fun with the dance cam and kiss cam! You won't miss a bit of the action with the jumbo screen presented by the Lake Region State College. Plus, kids can sign up to win a John Deere electric kids' tractor! Sounds like a hootin' and hollerin' good time to us! Follow Lake Region Stampede PRCA on Facebook for all of the latest info!
46th Annual Chamber Walleye Fishing Tournament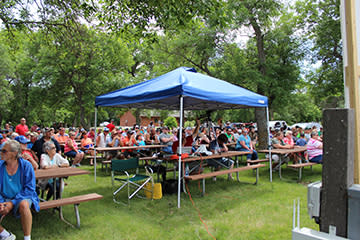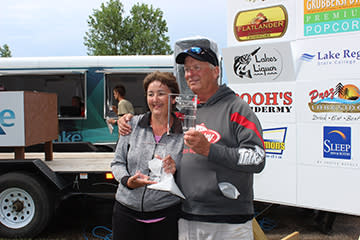 $6,500 Guaranteed 1st Place Prize
June 24th - 26th
Graham's Island State Park
$275 Per Team / Top Prize Payouts Based on 125 Teams
The longest running North Dakota fishing tournament is always a great time! Daily cash prizes are awarded for 1st, 2nd, and 3rd largest walleye. There will be a free Kid's and Family Clinic right after weigh-in on Saturday with the first 50 kids receiving a free rod/reel combination. 
Head on over to www.devilslakend.com to register your team today!

7th Annual Devils Lake Rib Fest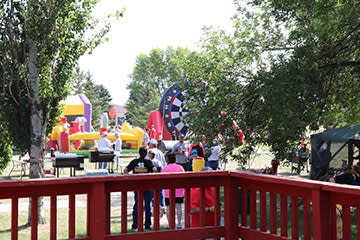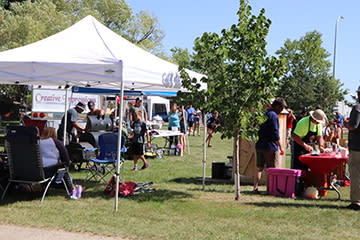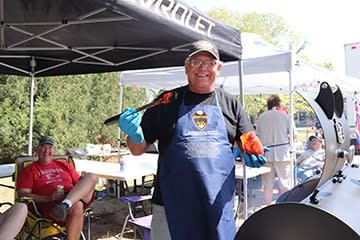 Saturday, July 16th, 2022
Roosevelt Park
Head on over to Roosevelt Park on Saturday, July 16th to sample some of the best ribs you will ever eat! Judging begins at 3 pm and ribs are served until gone. (A few words from the wise: get there early because the ribs go fast!) 

If you're interested in entering the contest this year, the fee is $50 and the entry form can be found at www.devilslakend.com. 
Wine Walk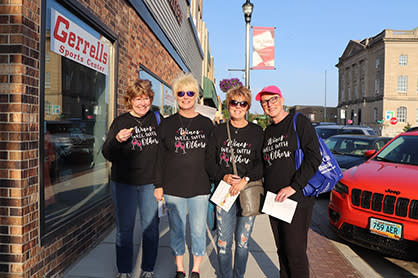 Thursday, September 8th, 2022
21 and Over
$25
The Wine Walk is a favorite event in the area for a reason, and it's a relaxing good time! Grab a group of friends (remember to bring a sober driver) and exchange your ticket for a passport. After that, you're set to visit participating downtown businesses where they will stamp your passport and you will sample wine and snacks and do a little shopping too!