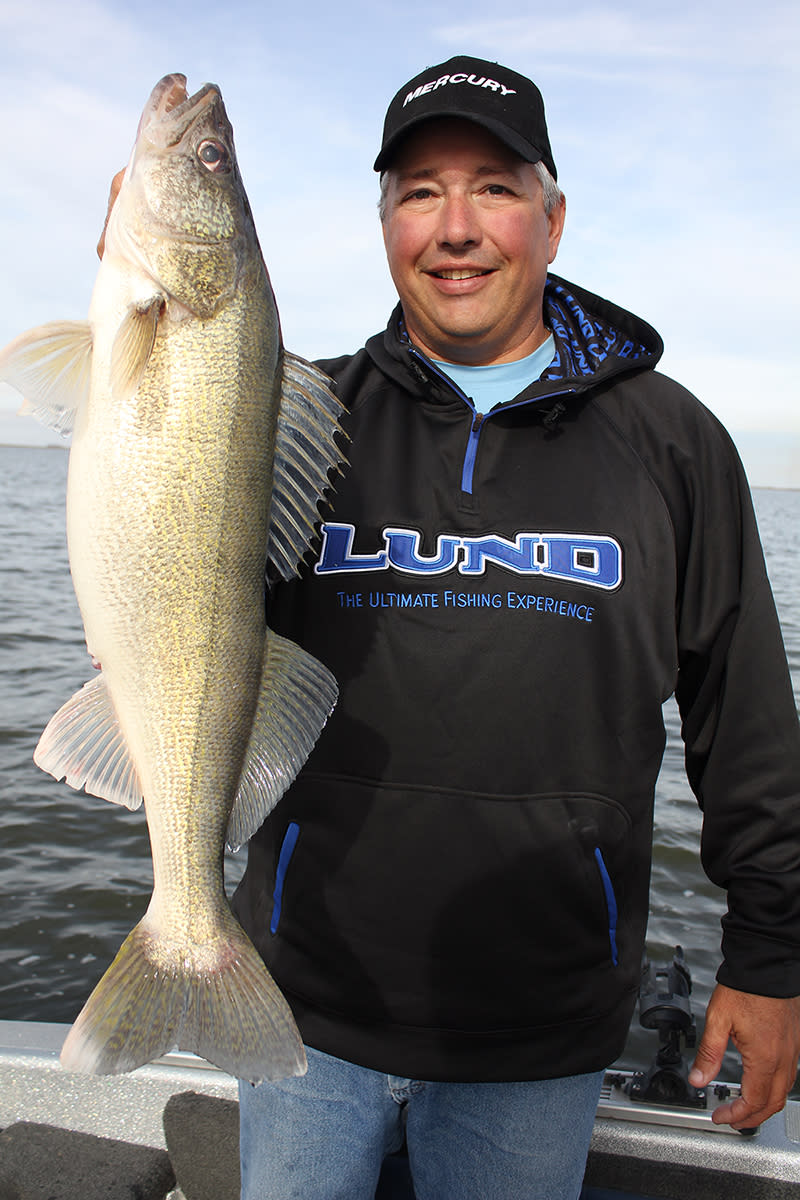 Whether having fished Devils Lake once or for 18 years, guide clients tell the same story, "We can't wait to get back."  This north central North Dakota lake has morphed over the past 30 years from 40,000 acres to nearly 200,000 acres and back to 160,000 acres.  It will rise about two feet this spring due to a heavy snow pack.
 
No matter what the lake is doing, the fishing remains constant – good to great to better than great – according to guides, tournament fishermen, locals, and especially those folks who contact the guide services to show them the best side of Devils Lake.
 
A few years ago, before online licensing became popular, the Devils Lake region sold 25 percent of the out-of-state fishing licenses.  Two reasons stand out: catering to visiting fishermen has been a tradition; and the fishing for perch, walleyes, northern pike and white bass has been rated as excellent.
 
Guide clients Bernie and Tracy Landerman, Ripon, Wisconsin, have fished Canada, Alaska, Florida, the Mississippi River, Green Bay, Lake Superior, and their home lake, Winnebago, plus many other waters.  "We fished Devils Lake with guide and fishing educator Johnnie Candle last year and can't wait to get back," Bernie said.  
 
That trip has been imprinted in their memory banks.  Bernie said he was hoping for good conditions so they were not fighting high waves.  "We had three good-weather days and caught at least 100 walleyes each day," he said.  He recalled a 3-foot pike grabbing a small walleye, "Just like Canada."
 
Tracy is a high school teacher.  Her popular outdoor class about fishing and other subjects led to hours of discussions with Candle who also teaches fishing at college and at seminars throughout the country.
 
Bernie was impressed with the ease at setting up the guided trip.  Since his wife loves hot weather, they booked the first week of August.  "We fished mid-week, and it seemed there were only a handful of other boats on the lake," he said.  Switching up, the couple fished and learned about slip-bobbering, bottom-bouncing, casting cranks and jigs and said, "With all the things you do, it's so enjoyable. Candle shared his techniques, tactics and secrets."
 
The Landermans had heard about Devils Lake for years.  Now they are ambassadors talking with friends, spreading the word, and will be bringing others out. 
 
Another set of guide clients, Janet and Arlin Prins from Iowa heard about Devils Lake and decided to book a trip there.  They did a little research and Mark Bry's name came up.  "This was his first year of guiding and 18 years later, we are still booking with him," Janet said.  
 
They have fished Minnesota and South Dakota extensively, and from their first trip to North Dakota, they have done it ever since.  "Mark bends over backwards to make our stay in Devils Lake enjoyable and productive.  He demonstrates what's working.  He teaches tactics, gear, and locations.  He makes 'catching' a big part of what we do for the days we spend with him," Janet said.
 
The toughest part of deciding to tackle Devils Lake for Janet and Arlin was where to start.  With such a big lake, they didn't know anything about it, and wanted a guide to show them the ropes.  "Boy, did Mark ever exceed our expectations; that's why we'll be back," they echoed.
 
Janet said the North Dakota winds caught up to them a couple times so they remained ashore.  "That's a good thing, really," Janet said, "Because the town is nice and there's plenty to do on those windy days."
 
This year, will be like every other trip, they'll book for the next year in advance.  "We'll keep going as long as we can.  This is a special place," they said.  
 
Guides like Johnnie Candle and Mark Bry's guide service cater to out-of-town fishermen.  Mark does it 12 months each year (open water and ice).  Johnnie fishes the open water months, then heads on the road in winter. 
 
DEVILSLAKEND.COM is the best source for guide service listings, up-to-date fishing reports, lodging accommodations at motels, cabins, resorts, casino, plus community and lake activities and much more.