December is here and most of the ice fishing trade shows have come and gone. This can only mean one thing, it's time to start fishing!

As with any new year, comes new lures, new tactics, new lakes and so on and so forth. Here are a few tips to get you headed in the right direction for when you hit the ice on Devils Lake this season.

Location, location, location! Keying in on proper areas can help eliminate a lot of water and unnecessary hole drilling. When it comes to ice fishing on Devils Lake, there are three main species that are sought after.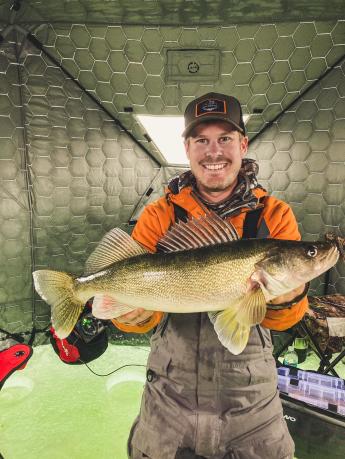 Walleyes: With record numbers coming across the North Dakota Game and Fish's nets this past year, you can bet there will be a fair amount of anglers seeking out their share of gravel lizards. As their nickname indicates, anglers will want to seek out structure to find these early season predators.

Look for rock humps, flooded roads (be sure to use caution around submerged culverts as there is always moving water and sketchy ice near), old tree rows, old shorelines, and any kind of hard turn on a lake map where a walleye would naturally be staking out its hunting grounds waiting on its prey.

A word to the wise, the winter walleye bite on Devils Lake can be a very short window at times. You can be in the perfect spot and not mark a fish for a few hours and then once the sun starts to dip below the horizon, the walleyes show up out of nowhere! Patience is key with winter walleyes.

Perch: Devils Lake has been coined "The Perch Capital of the World" and continues to live up to its reputation. Perch are very nomadic fish and can be a lot harder to pinpoint across the miles and miles of frozen lake. Look for perch to congregate in the basin of the lake in depths from 15-50 feet of water. Perch normally don't relate to any structure and I find that drilling a grid of holes in a spot can help eliminate water in a relatively timely fashion.

When you do finally land on a school of perch, don't overlook an old school trick to keep tabs on the schools direction, tip-ups. By placing a few tip-ups around the edge of the school, anglers can start to pinpoint what direction the schools is heading when the flags start popping!
PS....our local bait shops have been great at sending anglers in a general vicinity where there have been active perch.

Northern Pike: One of the most aggressive freshwater fish species can be found lurking the shallow depths of Devils Lake throughout most of the winter season. Although jigging can produce one heck of a pike bite, most anglers prefer hand-to-hand combat via tip-ups for these strong and nimble fish. Spearing has also gained in popularity over the past decade or so.

When it comes to finding these toothy critters through the ice, seek out shallow water that is off old road beds or adjacent to weed beds. Pike love to use the flooded road ditches and weeds to hide as they seek out their prey.
 
Winter on Devils Lake can be a lot of fun once you have found where the fish are, with a little guidance and a good map anglers can find spots to fish right from their couch!