It took Mother Nature a few extra weeks, but the Devils Lake, North Dakota ice guides are busy on the hard water. Guides are checking favorite areas and secret spots. They're drilling to insure safe travel routes. They're catering to clients from all corners of America, as is the case each ice season.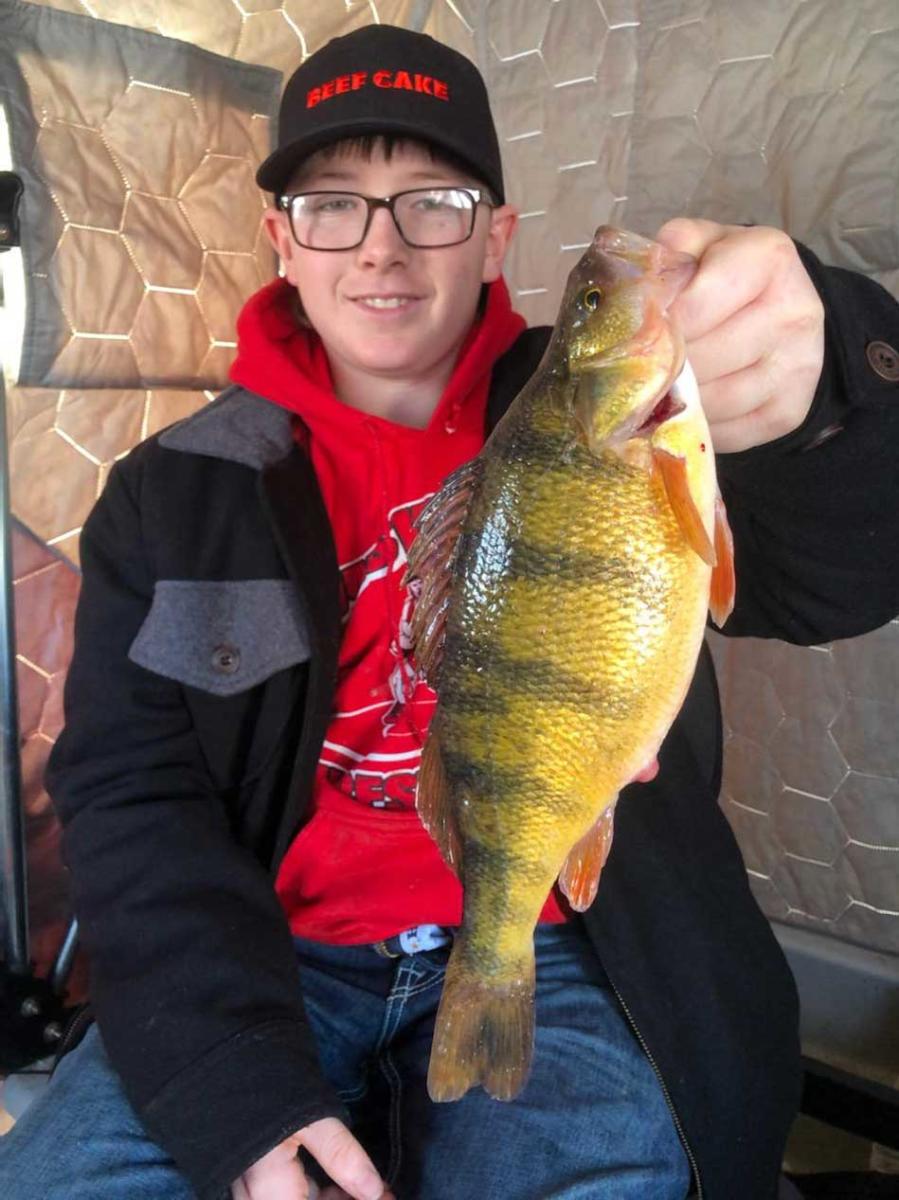 With early ice, the best bet is to hire a guide service. Their advice is, "Be Safe!" Not only do the guides know where the fish are, but they know how to catch perch, walleyes and pike and escort fishermen safely.
Guide Ancil Reynolds said, "Ice conditions are improving daily, but I know the routes. If on your own, check ice conditions continuously." Mark Bry, with his 10-man guide service echoed safety, "The cracks and pressure ridges are problematic; pre-drill all spots. Even though the ice is a foot or more in most places, always be careful. I don't recommend going out in the dark."
Landen Blanchfield operates fifty-one Woodland Resort rental houses, and said, "No full-size trucks yet. We're towing ice houses via ATVs." Long time Devils Lake Perch Patrol guide Zippy Dahl said, "With warmer than normal temps and radical temperature swings, ice is expanding and contracting. This keeps forming cracks and pressure ridges."
Safety is something preached religiously by all Devils Lake guides. They are also "sermonators" when describing how-to catch fish, use electronics, motivate fish into biting and entertaining while teaching.
Zippy Dahl said most of his guides are locating perch in the 26 to 34 foot range. He said, "Small Buckshot rattle spoons and tungsten jigs tipped with a couple waxworms have been the ticket. We're in full swing now, but still have great dates open in January, February and March." Perch Patrol hotline – 701-351-3474.
Reynolds' walleye and perch targeting will begin within days. "Now, we're chasing northern pike in water as shallow as four feet, out to 20 feet. With tip-ups, herring and smelt are top choices. We also offer pike spearing. The big pike are cooperating," he said. Ancil's Guide Service – 701-230-0367.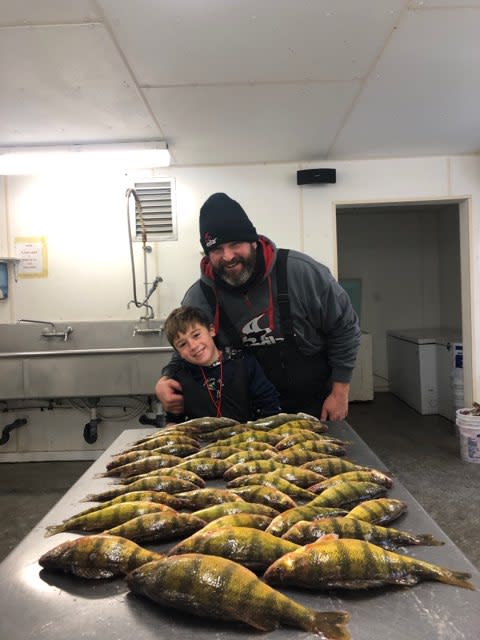 Bry's guides are finding walleyes to 22 inches in early morning and late afternoons. Most are in 10 to 18 feet of water, but deeper during the day (22 to 26 feet). "There's a strong class of 9 and 10 inch perch everywhere with some jumbos in the mix. A Buckshot spoon with a minnow head is the best bet right now," he said. "The season has really taken off, but with 10 guides and Sno Bears for safe travel, we can fit new or repeat customers into the schedule. Call soon," he said. Bry's Guide service – 701-739-0161.
From Woodland Resort, Blanchfield also said Northland Buckshot spoons in orange are best for perch and walleyes. Small jigging Rapalas are also good. Perch depths are 25 to 40 feet. Walleyes are in 15 to 25 feet (and bite best from 4 pm to 6 pm). He said, "People are cut off from Canadian destinations, so this is the year for them to check Devils Lake off their bucket list." He related a story of several foreign college students from India fishing last week. "One guy had a catfish rod. He clipped a lead depth finder to his jig, dropped it down and a 14-inch perch gobbled up the entire package." The Perch Patrol guide service calls Woodland home, but the resort also has eight rental houses. A crew moves and sets them up, makes sure heaters are working, drills holes and takes care of clients. Woodland Resort – 701-662-5996.
With parks, tourism, city and county cooperation, winter accesses remain open (and free) for fishermen. A heated fish-cleaning station by Ed's Bait Shop on Highway 20 is also maintained for the public, free of charge. The Sleep Inn & Suites, Fireside Inn & Suites, Cobblestone Hotel & Suites and the SunLac Inn Devils Lake also provide heated fish-cleaning facilities.
Go to devilslakend.com for resorts, lodging, guide listings, up-to-date fishing reports, ice and travel conditions, casino, community activities and much more.