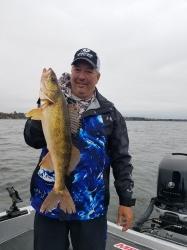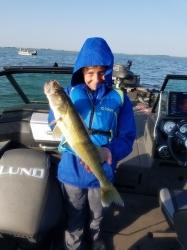 Most walleye fishermen list Devils Lake high on their Bucket Lists. That's true if they've never fished this sprawling north-central North Dakota lake or they were there just months ago.
Devils Lake boasts both quantity and quality. "Fall is the time to fill the boat AND catch a true trophy," said local guide and World Walleye Champion Johnnie Candle. Guide Cody Roswick echoed Candle, saying, "Trophy size fish are in the same areas as the eaters." Ross Sensiba, guide, added, "Fall fishing is about to shift into top speed, and is one of the best times to check out this fishery." Their tactics and insights follow.
First, these are what walleye experts say about Devils Lake.
Gary Parsons, Fishing Hall of Famer, host of Next Bite TV, and major-league walleye tournament winner said, "I've fished this lake for 25 years. It ranks as one of the best fishin' spots in the US. The walleye fishing is diverse and if a spot seems like it holds fish, it does."
Professional Angler Mike Gofron, holds the record for the most top 10 place finishes in the walleye tournament world. He said, "This place ranks as one of the best tournament waters anywhere. Anyone can catch a limit any day and is one heck of a fishery for big fish."
Zippy Dahl, owner of the Perch Patrol guide service (perchpatrol.com) on Devils Lake said, "The walleyes are fattening up; they're hungry; and any tactic will catch them. My personal best, 12.5 pounds came in the fall."
Mark Bry, (brysguidservice.com) said, "The best chance at an 8 to 10 pound walleye is upon us."
Candle (johnniecandle.com) said, "Fall is my favorite time on the lake and the best tactics can be about anything." Walleyes continue to surprise him, and he has been amazed how late in the season they chase spinners. He prefers half a crawler or Berkley Gulp! minnows on his spinner rigs. "Mostly," Candle said, "Fall means trolling number 7 Flicker shads or number 5 Salmo Hornets or casting Jigging Raps and Shiver Minnows." For the giant walleyes, he ties on much larger Flicker Shads and Reef Runners. He added, "Late September into mid-November constitute Fall season here. Halloween is a great time for monsters."
Living and guiding in this part of the world, he recommends fishermen come prepared for Mother Nature's moods. "Cool mornings, warm afternoons, breezes/wind and even snow affect anglers, but not walleyes," Candle said. His largest Devils Lake walleye, 11 pounds, came on Oct. 13, but personal bests occur for many clients in Fall.
Roswick (finhunters.com) said, "Walleyes respond to dropping water temps by going on the feed-bag. I enjoy targeting current areas, steep breaks and deep rocks with Northland Whistler or RZ jigs with live minnows or Impulse smelt minnows or Puppet Minnows, he said. For trophy-size walleyes, he trolls crankbaits. Always within reach are rods rigged with slip-bobbers when he wants to drop a leech or minnow to specific spots.
Afternoon sunshine triggers walleyes, and Roswick said, "I love to take duck hunters out after lunch and their morning hunts. Both trophy and eating-class fish can be in the same areas." Guiding all Fall and winter as well, Roswick advises those considering Devils Lake to book their trips now.
Sensiba (rushvalleyguideservice.com) loves watching his electronics and seeing the water temperatures drop through the 60-degree range into the upper 50's. "That's my prime time for trophies, and the great guide trips occur then because all fish are feeding heavily," he said. His favorite tactic is jigging rock piles, the 22 to 35 foot breaks, and main lake points with Berkley Gulp!
As the afternoon sun warms the shallows, he prefers Rapala Shad Raps (#5-jointed), casting over the tops of still-green weeds in 6 to 10 feet of water. "It seems the best afternoon time is 3 p.m.," he said. "Maybe the walleyes set their alarm clocks and wake up from their afternoon naps." He also advises fishermen to book fall trips now.
The hectic Devils Lake guiding and fishing business goes strong all year, because there is no closed season. Walleye fishermen just change their locations and tactics to take advantage of the changing conditions.
See Devils Lake up-to-date fishing and hunting reports, guide services, lodging, casino, community activities and much more at devilslakend.com.