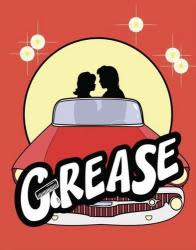 No one puts on a show like the Fort Totten Little Theatre. This year, they will be putting on their 59th production, Grease.
Performances will take place starting July 7th through July 31st on Wednesday, Thursday, Friday & Saturdays at 8:30 pm in Roosevelt Park. On Sunday, July 18th, there will be a matinee at 4 pm.
Auditions for the 2021 production were held in January. This year, there are approximately 32 performers ranging from ages 16 to 30. With over half of the cast being returning actors, everyone is sure to see some familiar, local faces. There will also be a lot of new faces to see this summer. Members of this year's cast are traveling from Grand Forks, Cando, Lakota, Dickinson State, New Rockford and even Arkansas.
"I'm really excited for everyone to see our performer from Arkansas, she's going to blow everyone's socks off!" – Peter Foss
Summer practices for Fort Totten Little Theatre began on June 1st and will continue throughout the following 5 weeks. The crew has been preparing for this production for the last several months.
The Fort Totten Little Theatre production could not happen without an outstanding crew. This year's crew members are Kelsey Ewert as Choreographer & Costume Designer, Emily Bibow as Music Director, Gavin Brown as Set Director and Peter Foss as Director.
Fort Totten Little Theatre's Director Peter Foss is expecting a great turnout this year. With a more kid-friendly production, more families are anticipated to watch.
"Attendance will likely be better than last year." – Peter Foss
With every production put on, Foss looks forward to giving the community something new to watch.
"I love to entertain people." – Peter Foss
Foss is striving to make this year's production of Grease different than what the audience will be expecting. Audience members should anticipate unique stage design and costuming.
Inside the park, there will be concession stands and merchandise available for sale. Tickets are available for $25.00 online and at the box office located at the Liquid Bean in Devils Lake. Group discount rates are offered.
Make sure to go out and enjoy this year's Fort Totten Little Theatre Production of Grease. You won't want to miss this one.
For more information, you can visit their website at forttottenlittletheatre.com or call their box office at 662-8888.