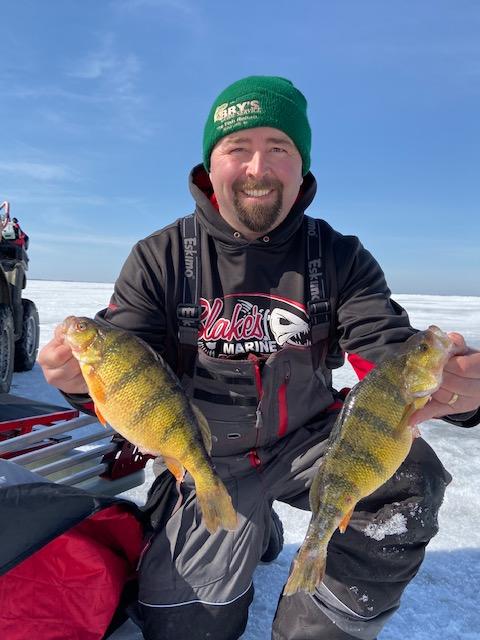 Devils Lake switches from one of the best walleye lakes during open-water season to primarily a perch paradise when it freezes.  Long-time guide Zippy Dahl said, "Perch fishing is our big winteFellow North Dakota guide service operator Mark Bry, reflecting on the past summer's catch said, "Our clients probably caught more perch by accident this summer than ever before.  They're here."
Dahl's 11 guides and Bry's 10 guides are on the ice starting mid to late December.  Each voiced reasons why clients return regularly.  Bry said, "We take pride in our clients doing well."  Dahl said, "I'm proud of our team.  They know it's about the customers."
Both men repeated what they hear from clients, "Boy are these perch fat."  They feed heavily on freshwater shrimp (called scuds in some regions).  Every year, magic occurs when a 15-inch, 2-pound trophy perch hits the ice.  With decades of servicing fishermen, they shared glimpses into their operations. 
Bry believes in using only the best gear or as he calls it, "Really, really good stuff."  The latest rods, reels, line, lures, bait and electronics are standard.  Customers ride in luxurious SnoBear tracked vehicles where it's warm, safe and mobile.  "We may make 10 moves a day," he said, "By reeling in, covering the SnoBear hole and taking off.  The key is to find the best bite."
Perch are often a 9 am to 4 pm target with early and late hours spent chasing walleyes.  His clients caught lots of fat 14 to 18 inch walleyes this summer.  "I think this will continue.  Clients then have the best of both worlds – walleyes and perch every day," he said.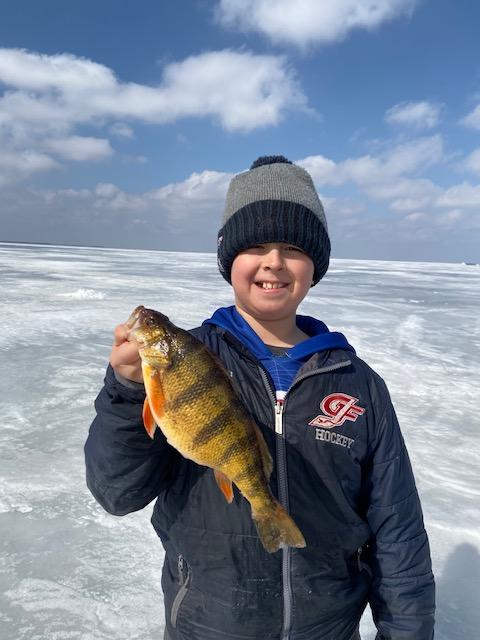 Many clients prefer fishing/lodging packages with Bry's four "home away from homes" that will sleep up to 35 people.  He reminded those considering an ice fishing vacation that three-day North Dakota non-resident licenses are $28 and $55 for the season.  Bry's Guide Service: 701-739-0161.
Dahl has been escorting fishermen on Devils Lake for 25 years.  His Perch Patrol guide service is a familiar name; maybe as easy to recall as his first name, Zippy.  "People come here to catch perch, and the biggest compliment we get is, "You are always taking us to the fish."  That is not without hard work.  His guides explore daily.  "We use the team work approach," he proudly pointed out. 
Moving is also part of his game.  The guides use Polaris Ranger crew cab tracked vehicles when conditions prohibit normal truck travel.  Each customer is trained to use a Vexilar FL-28.  Guides work with clients so they know what's happening under the ice and how perch react to their lure actions.  "We know finding fish is 50 percent of the game.  Enticing them to bite is the other half," he said. 
The Perch Patrol works closely with Woodland Resort and the Sleep Inn and Suites for their combo packages.  "We have openings, but people are calling earlier than ever before.  It looks like it will be a very busy winter," he said.  His crew chases walleyes early/late and perch during the day.  Perch Patrol – 701-351-3474.
Dahl and his guides experienced a phenomenal summer season.  It started in March with massive cancellations to the point of talking unemployment with his guides.  By the time guiding season began May 15, every available date filled for all guides.  Many new guests who usually fished Canada headed to Devils Lake with the US/Canada border closed.  "They were amazed at the fishing and the number of fish they could take home.  Many booked for the ice season," he said.
A committee (parks, tourism, city, county) keeps winter accesses open.  The group also maintains a public heated fish-cleaning station by Ed's Bait Shop on Highway 20.  The Sleep Inn, Fireside, Cobblestone and SunLac Inn also provide heated fish-cleaning facilities.
Devils Lake fishing is only one reason to visit this north-central North Dakota community.  The city was recently named winner of the Urban Excellence Award for their downtown revitalization project.  Add shopping to the family activities.  Some of the best waterfowl hunting anywhere, great parks, hiking and biking trails, bird watching and more also await visitors.
Go to devilslakend.com for up-to-date fishing reports, guide service listings, ice and travel conditions, lodging, casino, community activities and much more.  Plan ahead for Devils Lake winter fishing; book early.