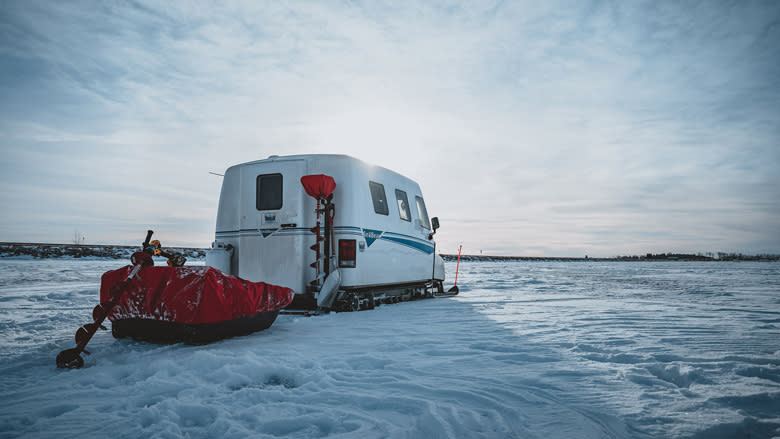 Ice fishermen know the best action occurs early and late in the season.  Devils Lake, North Dakota guide Cody Roswick has fished throughout the upper Midwest and Canada.  He has faced the February doldrums that occur on many lakes. Comparing this situation to his home-lake, he said, "Mid-Winter ice fishing may be tough; but the Devils Lake fish are still biting."
Roswick added, "We're fortunate Devils Lake has such a robust fish population."  Still, the key is to locate good numbers. "With a bunch down there, some will bite," he added.  Then, he revealed a guide's secret, "The biggest mistake people make is they don't fish high enough off the bottom."
With a lure dancing at least two feet off bottom, and as much as five feet up, the fish levitate from their comfort zone.  "When they come up, they act," his experience taught him.  Roswick uses the same lures – tungsten jigs with wax worms or maggots and BuckShot rattle spoons with minnow heads up high.  This season, the number one Northland ice lure has been the Eyeball spoon, a design he worked on.  "With the Eyeball, you don't miss many fish.  It catches perch and walleyes baited with either waxxies, maggots or a minnow head," he said.
The Devils Lake ice is solid with very little snow cover.  Pressure ridges deserve respect, but pick-ups are on the ice.  Guide service operator Mark Bry echoed Roswick's ice thickness of 15 to 20 inches, and advised travel by ATVs unless visiting fishermen know the lake well. 
"Overall, the lake is fishing well for this time of year," Bry said, "The walleye action is best to 9:30 am; then it's off perch hunting."  His guide advice for stubborn, mid-winter perch is two-fold: down-size with tungsten jigs and maggots.  On other days, his crew discovered "go big" with one-quarter ounce BuckShot spoons, Puppet minnow jigging lures or blade baits.  "Trigger one perch into biting and more seem to wake up," he added.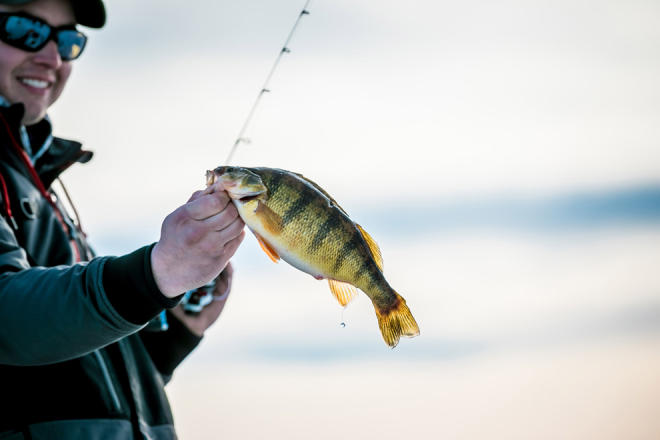 Most perch this season have been 9 to 11 inches, with a fair number of 13-inchers.  Clients have landed two 15-inch perch that nudged the scale over two pounds.  "Some of the biggest perch are shallow; not in huge numbers, but wall-hangers seem to be there," Bry said.  His team escorts clients in SnoBear tracked vehicles for convenience, warmth and safety.  Bry said all 10 guides have been on ice guiding every day since Christmas.  Both Roswick and Bry have ice-guide days open in March.  The Devils Lake fishing season is open continuously.
They also guide open water.  Guiding dates filled later than usual last year due to the virus scare.  With open water calls coming in already, they recommend reserving dates early.  Roswick: 701-840-5407.  Bry: 701-739-0161.
Winter accesses remain open (and free) for fishermen.  A public, heated fish-cleaning station by Ed's Bait Shop on Highway 20 is available free of charge.  The Sleep Inn, Fireside, Cobblestone and SunLac Inn also provide heated fish-cleaning facilities.
The website devilslakend.com is loaded with information about resorts, lodging, guide listings, up-to-date fishing reports, ice and travel conditions, casino, community activities and much more.