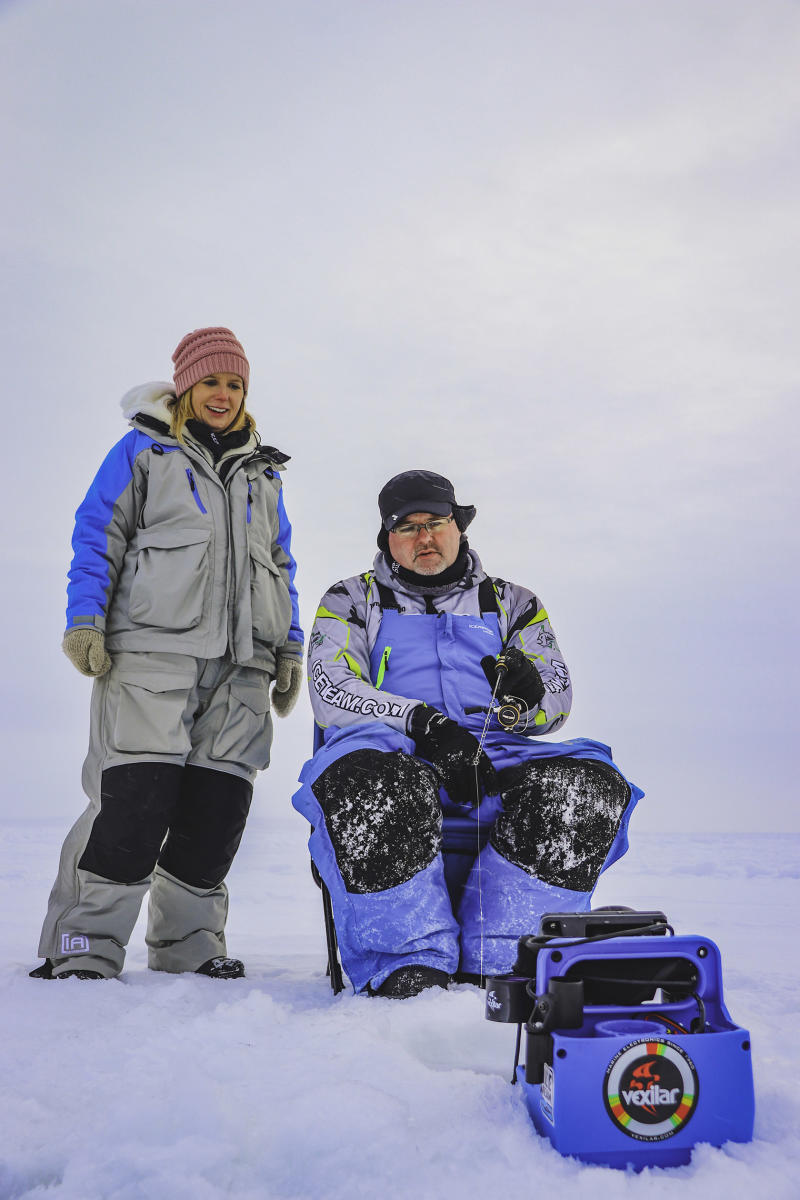 Devils Lake welcomes fishermen year-round to the massive lake bordering the city with the same name.  Fishing is open continuously.  It's especially inviting right now with "hot" ice fishing action.  
Every ice season attracts more and more rookie fishermen.  Maybe the word should be fisher-people, because many of the newbies are families.  Devils Lake is a great get-away, with fishing Number One on most agendas.
For those considering Devils Lake, the following tips will make an ice trip even more enjoyable:
Bring the entire family.  Or, make this an annual trip with your fishin' buddies.  After all, Devils Lake is relatively close to Minnesota, Wisconsin, Iowa, Nebraska and South Dakota.  For those who traditionally cross the now-closed border to fish Canadian waters, chart a course to Devils Lake, North Dakota

Options include fishing with your own gear or hiring a guide service. 
 
If a DYI trip, learn as much as possible by reading and checking YouTube, FaceBook and web reports including devilslakend.com.
 
Contact the local bait shops prior to arriving.  Buy your license at a shop where information flows in proportion to the amount of supplies you buy.  If the advice is that a certain size and color lure is working (or live bait), get some.  Use it like they advise.
 
North Dakota non-resident fishing licenses are $28 for three days and $55 for the season.

Learn about on-ice travel conditions.  Know how to navigate the county roads to lake accesses where rumors of good fishing exists.  Feel free to drill around the edges of "fishing packs."  When you know the magic depth, try that depth at other locations.  A handheld GPS will show you.
 
Be prepared with warm clothes and boots.  Bring shelter, heater, fish finder, etc.  Bring gear for walleyes, perch and pike.  Tip-ups make each day fun and exciting.
 
Or, plan to hire a guide service.  They exist to show clients a great time.  Guides also tune new Devils Lake anglers into what, where and how fish are going.  Even for the first day on the lake, this investment makes sense.  Do this now.  Devilslakend.com has a full listing.

A couple guide service owners shared their visions.   Mark Bry provides the latest rods, reels, line, lures, bait and electronics. Customers ride in luxurious SnoBear tracked vehicles where it's warm, safe and mobile.  Zippy Dahl's Perch Patrol guide service loves to hear, "You are always taking us to the fish."  Many guide services own lodging facilities or work with resorts or motels as part of their "packages."
Perch follow business hours, 9 am to 4 pm.  Dawn and dusk are spent chasing walleyes.  Clients then have the best of both worlds – walleyes and perch every day.
A committee (parks, tourism, city, county) keeps winter accesses open so fishermen can drive onto the lake.  The group also maintains a public heated fish-cleaning station by Ed's Bait Shop on Highway 20.  The Sleep Inn & Suites, Fireside Inn & Suites, Cobblestone Hotel & Suites and SunLac Inn also provide heated fish-cleaning facilities.
Go to devilslakend.com to locate lodging or guides.  Plus find the up-to-date fishing reports, guide service listings, ice and travel conditions, lodging, casino, community activities and much more