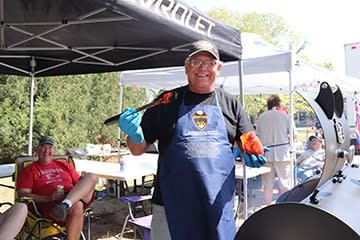 Rib Fest 2022! You'll want to be at Roosevelt Park on Saturday, July 16th for music, games, cornhole and volleyball tournaments, and some devilishly-good ribs!
Rib Cook-Off Registration fee: $50 per team
Roosevelt Park
Saturday, July 16th
Site prep begins at 8 am
If you are planning to enter the competition, you'll need to register. Registration forms can be found online at www.devilslakend.com under "Events." Set-up begins at 8 am. Ribs must be ready for the judging table at 3 pm. Each team must cook a minimum of 3 racks of ribs, but more is encouraged! Ribs will be judged on taste, tenderness/texture, and appearance. Only lettuce or kale will be allowed in the judging box; anything else may be grounds for disqualification! Awards will be given for 1st, 2nd, and 3rd place. Do you think your ribs would reign supreme? We'd love to see you there!
Rib Feed
When? 5 pm until gone.
Where? Roosevelt Park
Cost? Adults $10, children $5
The 7th Annual Rib Fest will begin serving to the public at 5 pm, and you will want to be there right on time because they go fast! There will be plenty to do for the whole family all day (the D.J. starts at 10 am) so get there early and enjoy a day in the park! The Chamber of Commerce will start reselling dinner tickets at 2:00 pm from their trailer.
Kid Zone
Cost? Free
When? 11 am - 6 pm
Load up your littles and make your way to Roosevelt Park for blow up games and bouncy houses. There will be Blow-Up Foot Darts, 3 in 1 Carnival, and High Voltage Chaos. Don't forget your sunscreen and bug spray!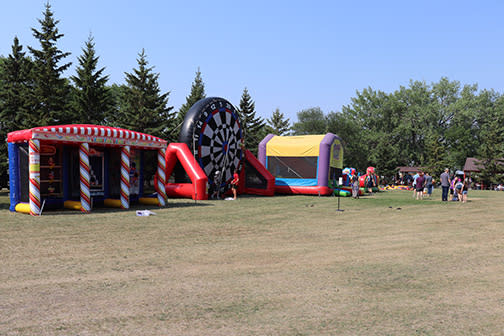 Cornhole Tournament
Where? Diamond 1, Roosevelt Park
Cost? $40 per team
When? Saturday, July 16th
11 am registration, bags fly at noon
All ages welcome If you've been wanting to participate in a cornhole tournament, this is a good one to start with. There will be 3 divisions competing - competitive, social, and junior - so there's a place for everyone. Plus, it's a 100% payout tourney. You can't beat that! For more details on registration contact Jeremy with Lake Region Cornhole by email at lakeregioncornhole@gmail.com.
Volleyball Tournament
Cost? $75 per team
(Limit of 12 teams)
Where? Roosevelt Park
Cash prizes based on number of team entries Hey all you volleyballers! Get a team together and see if you can score a cash prize at the Ribfest Volleyball Tournament! Pool play will start in the morning and a tournament bracket will be played in the afternoon. Start time will be based on the total number of teams entered. If the tournament is full, play will begin at 8 am.
Walking tacos, brats and burgers will be available 11 am - 1 pm with the proceeds benefiting the Four Winds - Minnewaukan volleyball program.
We'll see you at the park on the 16th!