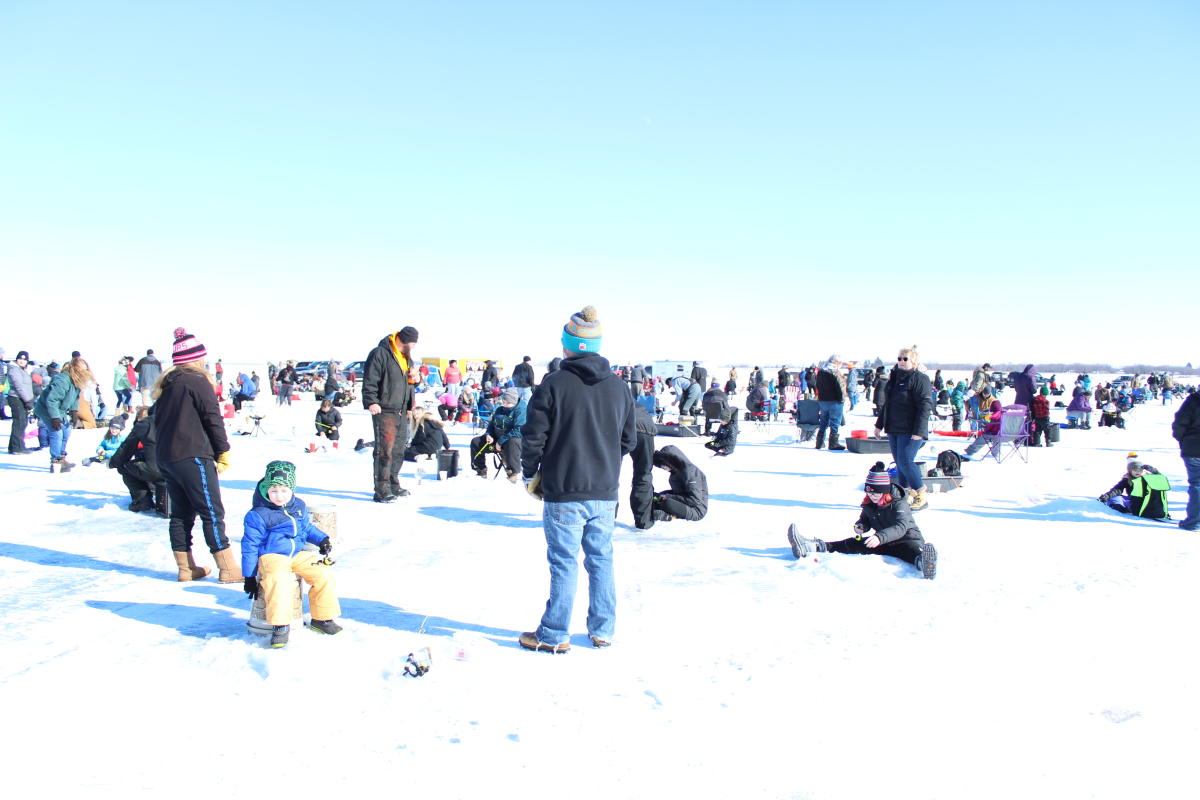 22nd Annual Shiverfest
Kick that cabin fever to the curb with these fun outdoor activities for the whole family!
A few events have a small fee; let's start with those.

Youth Ice Fishing Tournament
Woodland Resort
Saturday, February 19th
1 pm - 2:30 pm
16 Years and Under
$10 Entry Fee
Bundle up those young anglers and head out to Woodland Resort for the annual ice fishing tournament! Tickets are available now through Friday, February 18th, at the Devils Lake Chamber and the Devils Lake Fire Department. Tickets can also be purchased on the ice the day of the event. Each participant will receive an ice fishing rod, tackle box, bait and tackle. 
 
Frozen Fanny 5k
Creel Bay Golf Course
Saturday, February 19th
11 am
$20 Entry Fee
All Ages and Fitness Levels Welcome
Dust off those running (or walking) shoes and head out to the golf course for a 5K.  This event has been a local favorite for years, and we'd love to see you there!
THIS EVENT HAS BEEN CANCELED

Optimist Club Steak Fry
Proz Lakeside at The Cove
Saturday February 19th
4 pm - 9 pm
Cheeseburgers - $12
Steaks - $25
We can't think of a better way to warm up after a day full of Shiverfest fun than a steak or a cheeseburger. You can grab a ticket from an Optimist Club member, at the Devils Lake Chamber, or at Proz Lakeside.   

The rest of the activities during Shiverfest Weekend are free of charge!  Let's start with the fun at Woodland Resort.

Woodland Resort
Shiverfest Activities
Free for All Ages!
Family Skating and Pond Hockey
Saturday, February 19th 
Sunday February 20th
ALL DAY!
Kids not interested in ice fishing? No Problem! Head out on the ice for some skating or hockey, not to mention a healthy dose of fresh winter air. If it gets too cold you can always pop into Proz for a bite to warm you up!

Hot Chocolate, S'mores, and Firepits
1:30 pm - 3:30 pm
Saturday, February 19th
How fun does this sound? S'mores, a warm fire, and a cozy cup of hot chocolate while you're waiting to see who takes home the trophy for the fishing tournament (or you just need a break from skating or pond hockey.) We can hardly wait! 

Fireworks
8 pm 
Saturday, February 19th
We're closing out Shiverfest Saturday with a bang!  Bundle up your friends and family and join us on the beach for fireworks under the winter sky on beautiful Devils Lake. 

Creel Bay Golf Course
Cross Country Skiing
Saturday, February 19th & Sunday February 20th
9 am - 4 pm
Free Ski Rentals
If you've ever wanted to try cross country skiing but haven't had the opportunity, now is your chance! Gerrell's Sports Center is providing free ski rentals, so grab a friend and head out to the golf course for some good fun and exercise! Thank you Gerrell's! 

Sledding
Saturday, February 19th & Sunday, February 20th
9 am - 4 pm
Bring Your Own Sled
What kid doesn't love sledding? Not many we know. It's pretty fun for moms and dads, too. So grab your sleds and meet us at the golf course for an old-fashioned good time.  

Snowga
Saturday, February 19th
12:30 pm
Whether you participated in the 5k or you spent the morning sledding the golf course, you may want to loosen those muscles up before you head into your afternoon, and Lake Region Fitness has you covered with Snowga - yoga in the snow!  The polar opposite of hot yoga, you'll need to bundle up for these asanas. Thank you Lake Region Fitness!
THIS EVENT HAS BEEN CANCELED

Winter Wonderland Vendor Show
Saturday, February 19th
10 am - 3 pm
The fun isn't all outdoors! Pop into the Creel Bay Clubhouse to shop! All of your favorite vendors will be inside for a little retail therapy while you warm up from the outdoor festivities. 

Lake Region Curling Club
Learn to Curl Event
Saturday, February 19th 
3 pm - 5 pm & 6 pm - 8 pm
Pre-registration is Required
The Lake Region Curling Club is truly the hidden gem of Devils Lake.  Curling is a great way to get out during the winter months to have a little fun and make a lot of new friends.  The club is always looking to welcome new members, and they'd love to see you out for the Learn to Curl event during Shiverfest! We know you'll be glad you did!

Find all of the details here