Can the Devils Lake walleye action get any better than it has been all season so far?  The answer according to guides and buoyed by biologist's summer test netting is a resounding, "Yeah, Man!!"
What that means is simple – Keep Devils Lake on the radar for walleye fishing within the next several months.  Better yet, combine fishing with waterfowl hunting. 
Statistics don't lie.  Neither do the coolers headed home with visiting anglers.  Fishermen may keep 10 walleyes, in addition to the fish dinners they enjoy at this north-central North Dakota lake.
The North Dakota Game and Fish department summer test nets were heavy with walleyes, again.  Todd Caspers, fisheries biologist said, "Walleyes were well above the long-term average."  That average is 22 walleyes per net.  This past summer, their surveys revealed 32.4 walleyes per net.  The 15 to 20 inch eater size walleyes were double the long-term average (12.4 vs 6.2).  Both 20 to 25 inch and 25 to 30 inch walleyes were also above the long-term average.
Aaron McQuoid with 17 years heading McQuoid's Outdoors and Lodging with his wife, was emphatic saying, "I absolutely predict this great walleye bite will continue into fall and even under the ice for walleyes and perch this winter."  He offered some tips on where he and his guides will be concentrating, and invited non-residents to take advantage of his advice:
Fall is as good, maybe better than summer.
Boat speed may jump from 1.2 mph when dragging spinners and crawlers to 1.6 mph.
Jigging Raps will work wonders.
In current areas (bridges, culverts or wind-swept shorelines) jigs and minnows or jigs and crawlers will be very effective.
Trolling crankbaits will account for some bigger walleyes.
Be ready to change locations day to day.  Could be weed edges to mid-lake.  Move to find fish.
Discovered with modern electronics like side-imaging and forward facing sonar that the first pass will show many fish; on the second pass, fewer fish; on the third pass, they will be gone.  Walleyes move or they have wised up to electronic signals.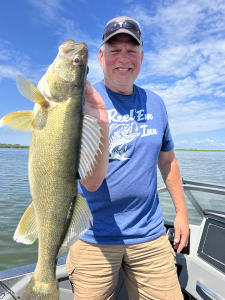 "Fall walleye action jumps from normal double-digit days to 50-plus action packed fish days," McQuoid said.  He feels not many non-residents are aware of the early goose season from mid-August into September.  He encouraged guests to take advantage of this bonanza when geese decoy easier.  This season does not deduct from the 2-week duck season later in October and November.  "A great time for kids," he said.
Over the years, he has heard a familiar refrain from out-of-state guests, "Many told me Devils Lake was on their wish-list, but when they finally booked and drove here, they didn't realize how close we really were.  Most definitely return and bring friends and family."  He can be reached at 701-351-6058.
In an understated manner, guide Nick Fautsch (701-739-3346) described the spring and summer walleye frenzy as, "It's been a heck of a good summer!"  He discovered that "guide fish," those 15 to 20 inch walleye numbers, are through the roof.  "And, the up and comers at 13 to 14 inches are all over the lake," he added. 
He employs the tactics that put fish in the boat.  As the cooler early fall weather invades Devils Lake (water temps the fourth week of August were 65 to 70 degrees), lower than usual for this time of year, he said, "As we roll into September and October, I feel privileged.  With everybody hunting, I have the lake to myself."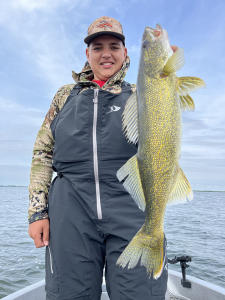 His fall results in the past generally meant bigger walleyes.  "I have days available and especially like taking families out.  With three kids myself, it is second nature for me to have youngsters in the boat," he said.  After clients experience Devils Lake in spring, summer or fall, Fautsch pointed out they usually re-book and bring buddies.  "Catching several perch nearly every guide trip this season -- and they're nice and big – tells me this winter should be a great perch bite," he forecast.
Other Game and Fish department netting results showed perch nearly at their long-term average of 11.5 per net, with the 12-inch jumbos double the average per net.  White bass were hauled in at 9.7 per net compared to the long-term average of 5.7.  The 15 to 18 inch tuggers were 2.2 per net about three times the long-term average of .7 per net.  Pike are still present, but haven't had a successful good hatch in recent years.  
Check the Chamber website -- devilslakend.com.  This is the best source for fishing and hunting guides, lodging, restaurants, things-to-do when not fishing, and everything guests need to know about the community, area or lake.