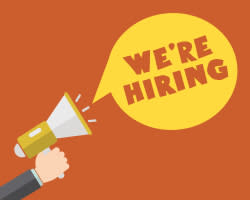 Like any organization – it's the people that make the difference.
Who We Are
The Devils Lake Area Chamber of Commerce is the area's leading advocate in all things business. The internal departments include the Chamber of Commerce, Motor Vehicle and the Tourism Division. We are a fun, creative team that promotes the community of Devils Lake.
We are looking to hire for our Accountant & Motor Vehicle Clerk.
This full-time position is divided into separate entities, dividing your day into different task skills.
Part time, the Accountant provides assistance to the Executive Director with basic accounting skills, some involving confidential matters as well as general office support. This person will be responsible for keeping accurate records including accounts payable and receivable, preparing monthly financial statements, making recommendations to director regarding financial record keeping and office operations. They will prepare payroll, payroll tax deposits, file appropriate state and federal employer/employee reports as required. They will also be responsible for office work, such as answering the phone and helping walk in customers.
The MVD Clerk would be responsible for issuing title transfers, duplicate plates, duplicate decals and duplicate titles. They will issue plates: temporary registration, decals, mobility impaired placards, snowmobile and off highway decals. The Devils Lake office of MVD is also responsible for assisting the Tourism and Chamber when needed.
Requirements:
We are looking to complement our team with an outgoing, energetic personality.
Experience working in an office/professional environment
Accounting knowledge
Collaborative and energetic
Ability to simultaneously juggle multiple tasks
Well-organized with a keen attention to detail
Ability to operate autonomously with minimal supervision
Must be proficient with QuickBooks and Office, including Word, Excel and Outlook
Must be able to travel to Bismarck for training
Must have valid driver's license and personal vehicle
Associates Degree preferred but not required
What We Offer:
The Devils Lake Area Chamber of Commerce offers a competitive salary, BCBS health benefits including dental and vision, IRA, 10-paid holidays a year, sick and vacation time, cell phone reimbursement, logo clothing allowance and mileage.
Salary range is $40,000-45,000 a year, depending on experience.
To apply, e-mail a cover letter, resume and references to Paula Vistad at paula@devilslakend.com.