When it comes to mid to late season ice fishing, there is one thing that holds true….one can never get tired of chasing flags!

For those that aren't currently running tip-ups, you are missing out on one of the most useful tools in the ice fishing industry. Tip-ups can be used as a scouting tool, way to take advantage of having multiple lines or even a tactic to keep the kids busy while spending a day on the ice.

Tip-ups have gotten a bad reputation over the last decade, but with a few simple best practices, you'll wonder why you didn't use tip-ups sooner!

There are quite a few ways to rig a tip-up, and I have a few ways that have become my favorite. As with any dead stick presentation, I always try to have some sort of leader coming off my tip-up line. This can be anything from fluorocarbon or braided fishing line.
 
1. Plain Hook: This setup is essentially a small treble hook attached to the leader with a small split shot attached about 12" above the hook. You can also use a small octopus or shank hook as well if you don't prefer a treble. Adding a colored bead above the hook can also be an added benefit on this particular presentation to provide a little color.
2. Plain Jig: Another great presentation for tying on a tip-up is just a regular plain jig. The key with a jig is that you want one heavy enough that you don't need to use a split shot to keep your bait down.
3. Tungsten Jig: When the going gets tough or you are in a great perch bite, downsizing to a tungsten jig is crucial. The heavy weight of this small lure can be a huge asset when it comes to finicky walleyes or on the Devils Lake jumbo perch we are all seeking through the ice.
There are a few different bait options when it comes to tip-ups. I always like hooking my minnows right behind the dorsal fin as this gives a very active bait presentation for an approaching fish. When it comes to pike, smelt and hot dogs can work great, yes you heard that right hot dogs work on pike!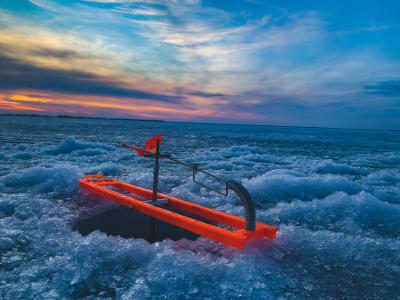 Modern technologies have made setting tip-ups a very quick and efficient process now. Once you have found your spot to start fishing and your hole is drilled it is as easy as dropping down your sonar's transducer and setting your tip-up line to be somewhere between 6"-18" of bottom. This depth can very as well but this is a general rule of thumb that I aim for. If you don't have a sonar unit with you, setting a tip-up will be just like setting a bobber, attached a depth bomb or heavy weight to your hook and find your sweet spot to set your line stop.

When it comes to marking depth on my tip-up, I prefer to use a small split shot to mark where by line stop is. You can also use a rubber band or bobber stop to mark your line stop.

Tip-ups can be of many uses when it comes to ice fishing on Devils Lake.

They can be used as a "scouting" tool for determining which way the perch school is moving. As we all know, perch are very nomadic and with the aid of tip-ups we can pinpoint on which direction we need to start moving to keep on top of the bite throughout the day. This is a great benefit for those that don't have any sort of forward facing sonar.

Tip-ups can be used as "added fisherman" to capitalize on those low-light narrow windows for walleyes. Some days you may have an active walleye bite for an hour and others can be as short as 15 minutes. By utilizing tip-ups around your ice house you give yourself the ability to put a few more fish topside than if you were to fish out of one hole for the whole morning or evening. Some days you may even learn more about the bite when you realize you are catching more fish on your tip-up than your jigging rod.

Tip-ups are also a great way to keep kids entertained throughout a day on the ice. Who doesn't love yelling "FLAG" and racing to the tip-up to land a fish.

As we move into late season ice fishing, tip-ups are also a great tool for icing big gators. Northern pike fishing on Devils Lake can be amazing when you hit it at the right time before the ice goes off. Once you have gone hand-to-hand in combat with a giant pike on a tip-up, you won't want to catch them any other way!

Now that you have the rigging down and fishing spots pinpointed, it's time to go deploy a few tip-ups and start chasing flags!